Samurai Armies 1467-1649 (Paperback)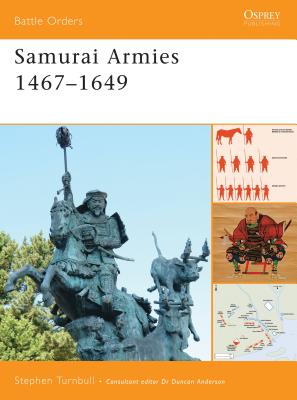 Description
---
The Sengoku Jidai or "Age of Warring States" is the time of the samurai - Japan's military aristocracy. A period of endemic warfare where the absence of unifying central control led to constant struggles between the daimyo (or "Great Names") who sought to protect and extend the influence of their respective families through political and military means. However, it was also a time of great military change, as technology advanced rapidly, and the introduction of European gunpowder revolutionized infantry tactics and fortification technology.
This title provides a highly detailed technical account of the samurai armies of Japan's Sengoku Jidai from the outbreak of the Onin War in 1467 to the publication of the final revised schedule for supplying troops to the Tokugawa Shogunate - by that time the government of united Japan - in 1649. It examines the complicated nature of family and clan that governed so much of the initial organization of the armies, how this changed over the period and how the battlefield tactics developed over a series of major encounters such as Nagashino and Sekigahara. Packed with rare photographs, maps, organizational charts and detailed text written by samurai expert Stephen Turnbull, this book is a unique insight into the organization of the armies of the samurai and is essential reading for anyone interested in the subject.
About the Author
---
Stephen Turnbull took his first degree at Cambridge University, and received a PhD from Leeds University for his work on Japanese religious history. He has travelled extensively in Europe and the Far East and also runs a well-used picture library. His work has been recognized by the awarding of the Canon Prize of the British Association for Japanese Studies and a Japan Festival Literary Award. He currently divides his time between lecturing in Japanese Religion at the University of Leeds and writing. The author lives in Leeds, UK.
Praise For…
---
"The Sengku Jidai was the sage of the samurai in early Japan - and Stephen Turnbull's discussion of the evolution and contributions of samurai armies to Japanese warfare makes for a detailed survey of not just army structure, but the family and clan ties that made it up. Military libraries strong in historic surveys as well as any collection strong in early Japanese history will find here a detailed winner." -California Bookwatch (March 2009)