Roman Guardsman 62 BC-Ad 324 (Paperback)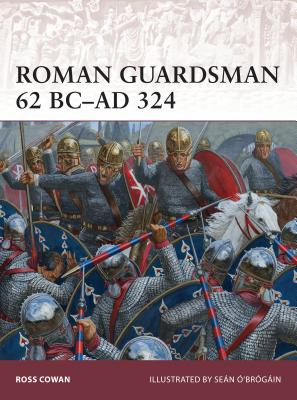 $18.95
Usually Ships in 1-5 Days
Description
---
For four centuries, from the civil wars of the Late Republic to Constantine's bloody reunification of the Empire, elite corps of guardsmen were at the heart of every Roman army. Whether as bodyguards or as shock troops in battle, the fighting skills of praetorians, speculatores, singulares and protectores determined the course of Roman history.
This title details the changing nature of these units, their organization and operational successes, and failures from their origins in the late Republic through to their unsuccessful struggle against Constantine the Great.
About the Author
---
Ross Cowan went to the University of Glasgow with the intention of studying Medieval history but was waylaid by Classics, and eventually emerged with a Ph.D. for research on the Praetorian Guard and Second Parthian Legion. Now a freelance writer and historian, Dr Cowan has published five books and numerous articles on all aspects of warfare in the Roman World. The author lives in Glasgow, Scotland.