The French Fry King (Hardcover)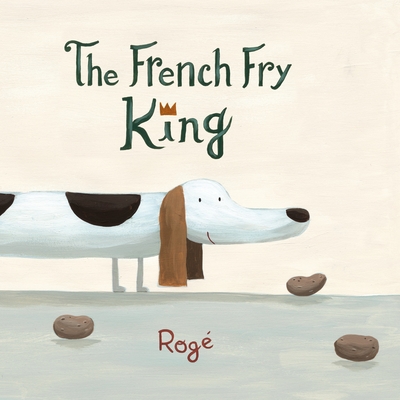 $17.95
Usually Ships in 1-5 Days
Description
---
A delectable feast for French fry lovers the world over, written and illustrated by acclaimed French Canadian artist, Roge, this wonderful story will amuse, beguile and delight young readers The French Fry King is a clever tale about dreaming big and finding love, told by a charming sausage dog named Roger.
Roger is a sausage dog who is destined for incredible things He is most definitely NOT the kind of dog that would chase the mailman, chew on bicycle tires, or bark at every car that drives goes by. All of that bores him....
He longs to be human, and spends a great deal of time dreaming about his future. For Roger, happiness will only come when he becomes King King of the French Fries But will this bring him true happiness?
About the Author
---
Roge began his career as artistic director at the marketing agencies Cossette and LG2. He now dedicates himself full time to illustration, painting and writing. His pictures, and many of his stories are featured in over twenty books for children, several of which have been honored through award nominations, including the prestigious Governor General s Award which he won in 2006.

With one foot on the Magdalen Islands, and another in Montreal, Roge has a unique perspective on life which provides a delightful, and very funny, view of the world."
Praise For…
---
"…Rogé's illustrations feature rounded lines and characters that are full of life. Clever details provide many visual delights for the attentive reader…. This is a marvelous allegorical tale that will delight children and adults alike."
—Quill & Quire 

"This is a deliciously sweet book about Roger, the entrepreneurial canine who tries to fill a void in his life…. Through fun illustrations and light hearted text, our King stumbles upon his Queen and is finally able to find true happiness and fulfillment…. Rogé is a talented and acclaimed illustrator from Montreal, and his latest work here is fun, funny and simply charming."
—WordsByMom.com

  "… Rogé's expressive paintings include people who clearly enjoy the pup's fries and are full of details that young readers will love recognizing: iPods, cell phones, and Batman. A few French labels are peppered throughout, keeping the cultural characteristics of the original. The translated text flows smoothly and works well as a read-aloud. Young listeners will be delighted as Roger finally finds not only success, but also romance."
— School Library Journal