Wanda and the Wild Hair (Paperback)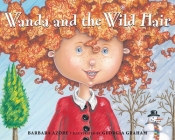 $7.95
Usually Ships in 1-5 Days
Description
---
Blue-eyed freckle-faced Wanda has a problem: she loves her wild hair dearly, but it drives all the adults in her life to distraction. She loves the way it feels when she touches it. She loves the way it looks when she pats it in front of the mirror. But her mother always nags her to wash it, her father wants to take her to the poodle parlor for a trim, and her teacher threatens to ask the principal to cut it off. What can poor Wanda do? A series of mishaps with a magpie, a cat, and a large English sheepdog finally convince Wanda that her beautiful hair has to be changed. Kids who love their hair will identify with Wanda's playful solution to make her adults happy.
This first picture book by author Barbara Azore is brought to life by the quirky, mischievous, pastel illustrations of artist Georgia Graham.
"From the Hardcover edition.
About the Author
---


Artist, Author and Illustrator Georgia Graham was born and raised in Calgary, Alberta. She loved drawing as long as she can remember and has been hooked on chalk pastels since her mom gave her a set when she was in grade four. She graduated from the Alberta College of Art in 1982 where she studied Visual Communication. She first used her art for children by drawing pictures for her Sunday School class while telling Bible stories. Since then she has been slowly developing her illustrating skills.
Praise For…
---
"Marvelously and energetically illustrated…Humorous chalk paste illustrations bring hair out of control to exuberant life, practically popping off the page in cartoony splendor."
—Children's Bookwatch
 
"Entertaining illustrations in chalk pastels make the most of Wanda's luxuriant hair."
—The Horn Book Guide