The Burn Palace (Compact Disc)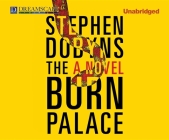 $59.99
Usually Ships in 1-5 Days
Description
---
The sleepy community of Brewster, Rhode Island, is just like any other small American town. It's a place where most of the population will likely die blocks from where they were born; where gossip spreads like wildfire, and the big entertainment on weekends is the inevitable fight at the local bar. But recently, something out of the ordinary - perhaps even supernatural - has been stirring in Brewster. While packs of coyotes gather on back roads and the news spreads that a baby has been stolen from Memorial Hospital (and replaced in its bassinet by a snake), a series of inexplicably violent acts begins to confound Detective Woody Potter and the local police - and inspire terror in the hearts and minds of the locals. From award-winning author Stephen Dobyns comes a sardonic yet chillingly suspenseful novel: the literary equivalent of a Richard Russo small-town tableau crossed with a Stephen King thriller. The Burn Palace is a darkly funny, twisted portrait of chaos and paranoia, with an impressive host of richly rendered, larger than-life characters and a thrilling plot that will keep readers guessing until the final pages.
About the Author
---
Stephen Dobyns is the author of more than thirty novels and poetry collections, including The Church of Dead Girls, Cold Dog Soup, and Cemetery Nights. Among his many honors are a Melville Cane Award, Pushcart prizes, a National Poetry Series prize, and three National Endowment for the Arts fellowships. His novels have been translated into twenty languages, and his poetry has appeared in the Best American Poetry anthology. Dobyns, who has taught at the University of Iowa and Sarah Lawrence College, teaches creative writing at Warren Wilson College.

George Newbern is an Earphones Award-winning narrator and a television and film actor best known for his roles as Brian MacKenzie in Father of the Bride and Father of the Bride Part II, as well as Danny in Friends. As a voice actor, he is notable for his role as Superman on the Cartoon Newtork series Static Shock, Justice League, and Justice League Unlimited. He holds a BA in theater arts from Northwestern University.