Evil in All Its Disguises (MP3 CD)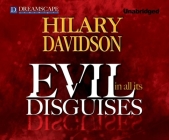 $29.99
Usually Ships in 1-5 Days
Description
---
Lily Moore joins a group of travel journalists for an all-expenses-paid press trip to Mexico's famous resort town of Acapulco. Lily's fellow journalist, Skye McDermott, drops hints about an investigation she's conducting. Skye, deeply upset at a lover who jilted her, is obsessed with getting revenge by exposing his company's fraud and illegal activities. But when Skye suddenly disappears, Lily knows something is terribly wrong. The hotel's staff refuses to listen or to even contact the authorities, and Lily begins to suspect that Skye is in grave danger. Worse yet, as Lily herself tries to escape, she discovers she's become a virtual prisoner in a gilded cage. A deadly trap has been set, and Lily finds herself maneuvered into the role of bait.
About the Author
---
Hilary Davidson is the author of several novels of mystery and noir including "The Damage Done, The Next One to Fall, "and "Evil in All Its Disguises". Davidson won the Anthony Award for Best First Novel for "The Damage Done." The book also earned a Crimespree Award and was a finalist for the Arthur Ellis and Macavity awards. Davidson's widely acclaimed short stories have been featured in publications from "Ellery Queen" to "Thuglit", and in many anthologies. A Toronto-born travel journalist and the author of eighteen nonfiction books, she has lived in New York City since October 2001.

Hillary Huber is one of the most successful voice talents in Los Angeles. Recent books read for Blackstone Audio include Him, Her, Him Again, the End of Him by Patricia Marx, A Field of Darkness by Cornelia Read, and A Map of Glass by Jane Urquhart.