What the Dead Have Taught Me about Living Well (Hardcover)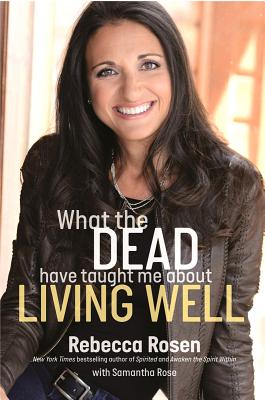 Description
---
From the bestselling author of Spirited and Awaken the Spirit Within, spiritual medium Rebecca Rosen opens up about her personal life and answers the questions that fans ask the most: How does your connection to the world beyond help you better understand and navigate your day-to-day, real world?
What the Dead Have Taught Me About Living Well follows Rebecca through a typical day in her life, juggling the responsibilities of family, friendships, work, health, money, and everything in between. But of course Rebecca's life is also colored with signs from the other world, with messages that spirits from the Other Side urgently want to share with their loved ones. Just like you, Rebecca can get overwhelmed at times, but she has developed strategies for coping with those feelings and refocusing when she feels herself going off-course. In this book, she shares those exercises, practices like creating a special space for tapping into higher spiritual guidance, how to get spiritually dressed in the morning by getting centered and protecting the energetic body, and how to cleanse negative energy from a room.
After serving as a psychic medium between the spirit world and our day-to-day world for more than two decades, what Rebecca knows for sure is that the spirit world is always trying to get our attention. They intervene in our lives every day to let us know that our real-life struggles have a rhyme, a reason, and a purpose, and that we re not alone to figure it all out. Our guides have our backs every step of the way, and What the Dead Have Taught Me About Living Well reveals how to become more in tune with their guidance.
About the Author
---
Rebecca Rosen is an international bestselling author, inspirational speaker, and star of Lifetime's The Last Goodbye. Known for her accessible style and stunningly accurate ability to connect with the departed, her broad appeal and healing message have led to repeated national media appearances on The Dr. Oz Show, Dr. Phil, Entertainment Tonight, Fox and Friends, and more. Rebecca regularly tours around the country performing in front of sold-out live audiences. She lives in Denver with her family.Samantha Rose is an Emmy Award-winning television producer and bestselling author and coauthor of many nonfiction projects.