The Monster of Florence (Hardcover)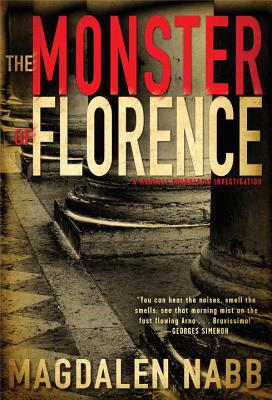 Description
---
Based on a chilling true crime, "The Monster of Florence" follows the reopening of a cold case--a serial killer who targeted unmarried couples and terrorized Florence for two decades.
Marshal Guarnaccia's job with the carabinieri--the local Florentine police--usually involves restoring stolen handbags to grateful old ladies and lost cameras to bewildered tourists. So when he is assigned to work with the police in trying to track down a vicious serial killer, he feels out of his league. To make matters worse, the Proc he must report to is Simonetti, the same man he knows drove an innocent man to suicide several years earlier in his blind quest for a conviction. The Marshal can't let the stress of the case get to him if he wants to make sure justice is upheld.
About the Author
---
Magdalen Nabb was born in Lancashire and trained as a potter. In 1975, she left her old life behind and moved with her son to Florence, where she knew no one and even though she didn't speak any Italian, but where she fell in love with the local setting. Her Marshal Guarnaccia series, which has been translated into ten languages, was inspired by a real local marshal she befriended in the tiny pottery town of Montelupo Fiorentino. Nabb wrote children's fiction and crime novels until her death in 2007.
Praise For…
---
Praise for The Monster of Florence

"One of Nabb's darkest novels, almost shocking in its disenchanted acknowledgment of human brutality."
—The New York Times Book Review

"The late Magdalen Nabb never wrote a bad book.... She's well worth discovering by a new generation of readers... [Monster of Florence] is one of the best of her works and readers can revel in the streets, sounds, smells of Florence."
—The Globe and Mail

"It is so good to walk with [Magdalen Nabb] through the animated streets of Florence, with its carabinieri, its ordinary people, its little trattorie and even its noisy tourists. It's all so alive, you can hear the noises, smell the smells, see that morning mist on the fast flowing Arno…. Bravissimo!"
—Georges Simenon

"Monster is powerful in its indirection and its presentation in a fictional context of the facts of a real and celebrated case.... It's both a very effective crime novel and something more than a crime novel."
—Glenn Harper, International Noir Fiction

"A haunting thriller where past and present collide, where ambition brutalizes those who have most need of compassion and where lies are often more credible than truth."
—Val McDermid 

"Nabb's account of the details is freshly horrifying.... The vicious, incestuous suspect is so vivid on the page that the reader feels the need of a shower after each of his many appearances."
—Donna Leon for the Sunday Times

"Fans who mourned [Nabb's] death in 2007 will want this mystery."
—Library Journal

"Nabb's death, in 2007, left a serious hole in the roster of A-list mystery writers, and the publication of a posthumous novel starring her series hero, Marshal Guarnaccia, of the Florence Carabinieri, is a welcome event for all fans of international crime fiction."
—Booklist

Praise for Magdalen Nabb

"It takes a writer as good as Magdalen Nabb to remind us how subtle the art of the mystery can be."
—New York Times