Crescent Moon Rising: The Islamic Transformation of America (Paperback)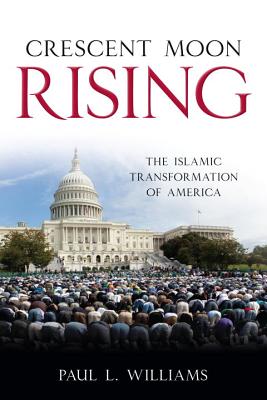 Description
---
Forty years ago, Muslims in America were a statistically insignificant minority, numbering fewer than one thousand individuals. By contrast, Islam is today the second-largest and fastest growing religion in America, with more than six million adherents.
In Crescent Moon Rising, journalist Paul L. Williams examines the phenomenal rise of Islam in the United States and discusses its implications.
In the first half of the book, the author traces the beginnings of Islam in this country, in particular the rise and influence of the Nation of Islam among African Americans. He emphasizes the impact of the 1965 Hart-Cellar Act, which abolished national-origin quotas and led to successive waves of Muslim immigrants, who entered this country from Palestine, Kuwait, Iraq, Southeast Asia, Africa, Turkey, and other parts of the world.
In the second half, Williams considers statistical studies of American Muslims regarding age groups, family size, professional affiliations, annual income, and religious and political commitments. He also addresses a number of disturbing concerns about some aspects of the Muslim presence in America. These include: the connections between many American mosques with Saudi benefactors who promote an ultra-orthodox, anti-Western agenda; the existence of Muslim paramilitary training grounds recruiting ex-convicts; and the ties of even self-described moderate Muslim spokespersons with more politically radical elements.
Informative and at times controversial, Crescent Moon Rising clearly shows that Islam will be a force to reckon with for some time in America.
About the Author
---
Paul L. Williams is a journalist and the author of The Day of Islam, Osama's Revenge, The Al Qaeda Connection, and The Vatican Exposed, among other books. The winner of three first-place Keystone Press Awards for journalism, he has written articles for such news outlets as Newsmax, World Net Daily, Family Security Matters, and the National Review. He has also served as a consultant for the FBI, editor and publisher of the Metro (Scranton, PA), and adjunct professor of humanities at the University of Scranton.
Praise For…
---
"A sobering wake-up call in an increasingly dark time, Crescent Moon Rising chronicles a threat that the political and media establishment is determined to ignore and deny. But ignoring and denying it won't make it go away, and Paul Williams's warning will appear more and more prophetic as time goes by."
- Robert Spencer, Author of The Myth of Islamic Tolerance


"Meticulously researched and vitally important for everyone seeking the unbiased truth about the rise of Islam in the United States, this masterfully written book offers indispensable and eye-opening historical insight. If I had to choose just one book on this critically important issue, this is it."
- Douglas J. Hagmann, Investigator, director of the Northeast Intelligence Network,and host of The Hagmann & Hagmann Report


"Crescent Moon Rising is an amazing, chronological account of the history of Islam and its rise in America. While it is intended for the average public, its massive amount of information will serve as documentation for future researchers and historians. Most importantly, it refutes the claims that Islam has always been part of America's story. A must-read to expand your knowledge."
- Susanne M. Reyto, Author of Pursuit of Freedom