Rick Steves' Italy 2013 (Paperback)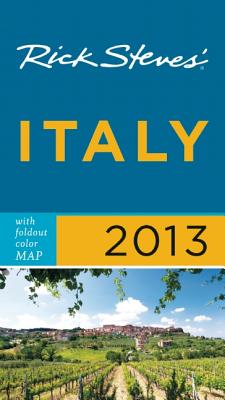 Description
---
You can count on Rick Steves to tell you what you really need to know when traveling in Italy.
From the beaches to the Alps, from fine art to fine pasta, Italy has it all. With this book, you'll trace Italian culture from Rome's Colosseum to Michelangelo's David to the bustling elegance of Milan. Experience the art-drenched cities of Venice and Florence, explore the ancient ruins of the Roman Forum, and learn how to avoid the lines at the most popular museums. Discover the villages of Tuscany and Umbria and the lazy rhythms of the Cinque Terre. Shop at local market stalls, sip a cappuccino at an outdoor cafe, and pick up a picknic lunch at an allimentari. Relax and enjoy the life of Bella Italia
Rick's candid, humorous advice will guide you to good-value hotels and restaurants. He'll help you plan where to go and what to see, depending on the length of your trip. You'll get up-to-date recommendations about what is worth your time and money. More than just reviews and directions, a Rick Steves guidebook is a tour guide in your pocket.

About the Author
---
Rick Steves has spent 100 days every year since 1973 exploring Europe. Rick produces a public television series (Rick Steves' Europe), a public radio show (Travel with Rick Steves), and an app and podcast (Rick Steves Audio Europe); writes a bestselling series of guidebooks and a nationally syndicated newspaper column; organizes guided tours that take thousands of travelers to Europe annually; and offers an information-packed website (RickSteves.com). With the help of his hardworking staff of 80 at Europe Through the Back Door--in Edmonds, Washington, just north of Seattle--Rick's mission is to make European travel fun, affordable, and culturally broadening for Americans.