A Different Mirror for Young People: A History of Multicultural America (Hardcover)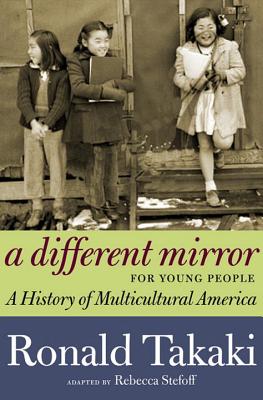 Please email or write store for pricing and availability information.
Description
---
A longtime professor of Ethnic Studies at the University of California at Berkeley, Ronald Takaki wasrecognized as one of the foremost scholars of American ethnic history and diversity. When the first edition of"A""Different Mirror"was published in 1993, "Publishers Weekly"called it "a brilliant revisionist history of Americathat is likely to become a classic of multicultural studies" and named it one of the ten best books of the year.Now Rebecca Stefoff, who adapted Howard Zinn's best-selling"A People's History of the United States"foryounger readers, turns the updated 2008 edition of Takaki's multicultural masterwork into"A Different Mirror for""Young People."
Drawing on Takaki's vast array of primary sources, and staying true to his own words whenever possible, "A""Different Mirror for Young People"brings ethnic history alive through the words of people, including teenagers, who recorded their experiences in letters, diaries, and poems. Like Zinn's"A People's History," Takaki's"A""Different Mirror"offers a rich and rewarding "people's view" perspective on the American story.
About the Author
---
RONALD TAKAKI(1939 2009) was recognized as one of the foremost scholars of American ethnic history. Born and raised in Oahu, Hawaii, the descendent of Japanese immigrant field workers, Takaki became the first member of his family to receive higher education, attending The College of Wooster in Wooster, Ohio, and later receiving a doctorate in history from the University of California, Berkeley. Takaki has said that he was born intellectually and politically during this period in Berkeley in the 1960s. His PhD dissertation was on the subject of slavery in America, and he went on to teach the first black history course at the University of California, Los Angeles, in the aftermath of the Watts riots. Returning to Berkeley, Takaki helped found the nation s first ethnic studies department and rose to national prominence publishing works on the history of immigration and the understanding of ethnicity in the Americas. His 1989 title"Strangers from a Different Shore: A History of Asian Americans"was nominated for a Pulitzer Prize. Takaki died in 2009.

REBECCASTEFOFFspecializes in writing nonfiction for young readers, with a focus on scientific, historical, and literary subjects. She previously explored the subject of evolution in"Charles Darwin and the Evolution Revolution"(Oxford University Press, 1996) and the four-volume series"Humans: An Evolutionary History"(Marshall Cavendish Benchmark, 2010). Stefoff has also written on exploration, forensic investigation, and archaeology, among other topics. In addition to writing her own books, Stefoff has adapted several important nonfiction works for young audiences: "A Young People's History of the United States," based on Howard Zinn's bestselling classic of progressive history"; Before Columbus: The Americas in 1491," based on Charles C. Mann's ground-breaking new look at the archaeology of the pre-Columbian Americas; and"A Different Mirror for Young People," based on a major work of scholarship by ethnic historian Ronald Takaki."
Praise For…
---
"This 375-page book would be an excellent way to include multi-ethnic materials in the classroom as a way to ensure that your students see their unique identities reflected in their coursework."
— Skipping Stones

"This is a great introduction to Takaki's path-breaking scholarship."
— Good