Candle 79 Cookbook: Modern Vegan Classics from New York's Premier Sustainable Restaurant (Hardcover)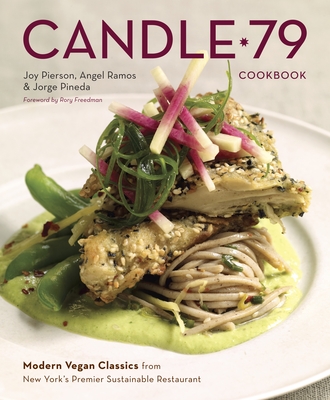 $30.00
Usually Ships in 1-5 Days
Description
---
A sophisticated vegan cookbook from New York's acclaimed Candle 79 restaurant.
Continually rated as one of the best vegan restaurants in the country, Candle 79 is at the forefront of a movement to bring elegance to vegetarian cuisine. Not only is its fare local, seasonal, organic, and sustainable, but also so flavorful and satisfying that customers vegan and omnivore alike are constantly asking for recipes to cook at home. This collection answers that call, with simple yet impressive recipes for Chickpea Crepes, Ginger-Seitan Dumplings, Live Lasagna, Chocolate Mousse Towers, Cucumber-Basil Martinis, and more. Expanding the horizons of vegan fare with appetizers, soups, salads, mains, brunches, desserts, cocktails, and wine pairings, "Candle 79 Cookbook" invites every home cook to make truly green cuisine.
About the Author
---
Nutritional counselorJoy Piersonestablished the Candle Cafe and Candle 79 restaurants with her partner, Bart Potenza. They have also developed a growing catering and wholesale business and are the authors of"The Candle Cafe Cookbook." Joy has written, lectured, and consulted extensively about food and nutrition and she serves as board chair of the New York Coalition for Healthy School Food. She has appeared on The Food Network, "The Today Show," "Good Morning America," and"Good Day New York." Joy lives in New York City.

Executive chefAngel Ramosbrought his innovative cooking talents from Candle Cafe to Candle 79 when it opened. His recipes have been featured in the"New York Times," "Vegetarian Times," and"Pilates Style"magazine, and he has helped develop the nationally distributed Candle Cafe Frozen Entrees. In 2010, Angel was named the"VegNews"Chef of the Year. He lives in New York City.

Pastry chef and chef de cuisineJorge Pinedahas created desserts that have revolutionized vegan baking. A major contributor to"The Candle Cafe Cookbook," he has helped develop the nationally distributed Candle Cafe Desserts and Frozen Entrees. Jorge s pastries have been named the Best Vegan Desserts in America by the"Los Angeles Times." He lives in New York City.

Visit www.candle79.com"
Praise For…
---
VegNews 2011 Cookbook of the Year

"There are no two ways about it: The Candle 79 Cookbook is stunning. Reading through the book feels like settling into one of the restaurant's comfortable booths, as the warmth and hospitality of its authors ooze out. ...a gorgeously designed gift." 
—VegNews, 12/1/11

"a lottery win for vegan diners." 
—New York Times Well blog, 11/22/11

"Rare is the vegan restaurant beloved by vegetarians and omnivores alike, but New York City's Candle 79 is just that." 
—Whole Living Magazine, 11/1/11

"vegan or not, this is cooking done right: with a focus on herbs, spices, and inherently flavorful produce."
—Publishers Weekly, 7/11/11

"The Candle Cafe defined sustainability and the green movement long before it was hip or even politically correct. More importantly, the Candle team has a track record of making delicious and beautiful food with explosive flavor and the heart and soul of a zen master. The Candle 79 Cookbook has everything anyone I know could want to eat, and each of these easy-to-make recipes drives (nay, cycles) me to the greenmarket again and again for the pure fun and deliciousness of it all."
—MARIO BATALI
 
"If I'm in NYC, I'm headed to Candle 79. They have achieved something almost imponderable—compassionate, comforting, and healthy cuisine. This book is an artifact worth treasuring for its content as well as its broader message."
—BIZ STONE, cofounder, Twitter
 
"If I had to choose my favorite meal ever, I'd be hard-pressed to do so with so many unbelievably delicious choices from Candle 79. Now I can re-create these amazing dishes at home, and they are actually quite easy to do. This cookbook is heaven-sent!"
—KATHY FRESTON, author, Veganist
 
"You can look at it as 'eating healthy'; we think of it as 'eating happy.' In a fast-paced, fast-food world, Candle 79 offers an oasis where delicious food nourishes the body and a warm caring spirit nourishes the soul. The Candle 79 Cookbook lets us take that experience home. We encourage you to share in what has been an inspiring part of our lives for about twenty years—and to try the Seitan Picatta. It's incredible."
—MICHAEL J. FOX and TRACY POLLAN
 
"The Candle 79 family continues to feed me and my family on all levels. Their commitment to innovative, delicious dishes keeps me coming back for more . . . and more."
—WOODY HARRELSON
 
"Candle 79 creates magical vegan feasts that make you glad you'll be living longer to enjoy them."
—DR. MEHMET OZ
 
"Candle 79 Cookbook has set the bar for vegan fine dining. Chef Angel has had a tremendous influence on my cooking, and this new cookbook is packed with innovative, beautifully thought-out dishes that prove just how tasty vegan food can be."
—TAL RONNEN, chef and author, The Conscious Cook