The Modern Gentleman: A Guide to Essential Manners, Savvy, & Vice (Paperback)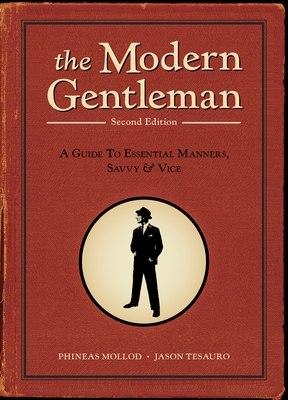 $15.99
Usually Ships in 1-5 Days
Description
---
Refine your cool with this quintessential sourcebook of manners and mischief. Author raconteurs Phineas Mollod and Jason Tesauro offer timely advice and timeless wisdom for adventurous gents curious about:
JAZZ & FLASKMANSHIP
FRIENDS & GAFFES
DATING & ENTERTAINING
TWEETIQUETTE & MODERN LIT
TUXEDOS & TATTOOS
CAVIAR & CRASH PADS
BYO, BBQ & IOUs
With new sections covering the Digital Man, the Local Epicure, and the Bespoke Gent, this second edition provides a panoramic snapshot of the enlightened modern man: witty and poignant, traditional but tech savvy, flirtatious yet courtly. So roll up your yoga mat, uncork a Barolo, spin some vinyl, and crack open this freshly updated edition of "The Modern Gentleman" your Man Cycle is peaking.
About the Author
---
Phineas Mollod uses his Vanderbilt law degree to counsel his wayward pals in divorces and landlord-tenant imbroglios and write about technology law in New York City.

Jason Tesauro forewent law school for a mastery of wine, spirits, style, and sustainable food. You ll find him swinging a croquet mallet in Richmond, Virginia, or wielding a champagne saber as he conducts the Modern Gentleman Seminar Series and other events of consequence around the world."
Praise For…
---
"Peculiar, brilliant, funny, smart, and it will turn you into a cool person, like CNN's Anderson Cooper and me." 
—Augusten Burroughs, Entertainment Weekly