Unequal Protection: How Corporations Became "People" -- And How You Can Fight Back (Paperback)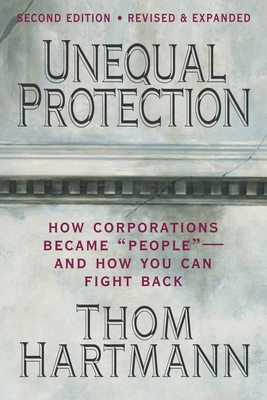 $20.95
Usually Ships in 1-5 Days
Description
---
NEW EDITION, REVISED AND UPDATED
Unequal taxes, unequal accountability for crime, unequal influence, unequal control of the media, unequal access to natural resources corporations have gained these privileges and more by exploiting their legal status as persons. How did something so illogical and unjust become the law of the land?
Americans have been struggling with the role of corporations since before the birth of the republic. As Thom Hartmann shows, the Boston Tea Party was actually a protest against the British East India Company the first modern corporation. "Unequal Protection" tells the astonishing story of how, after decades of sensible limits on corporate power, an offhand, off-the-record comment by a Supreme Court justice led to the Fourteenth Amendment originally passed to grant basic rights to freed slaves becoming the justification for granting corporations the same rights as human beings. And Hartmann proposes specific legal remedies that will finally put an end to the bizarre farce of corporate personhood.
This new edition has been thoroughly updated and features Hartmann's analysis of two recent Supreme Court cases, including "Citizens United v. Federal Election Commission," which tossed out corporate campaign finance limits.
About the Author
---
National radio host THOM HARTMANN is the award-winning, best-selling author of fourteen books currently in print in more than a dozen languages on four continents. Hartmann is also an entrepreneur, an internationally known speaker on culture and communications, and an innovator in the fields of psychiatry, ecology, and economics. The former executive director of a residential treatment program for emotionally disturbed and abused children, he has helped set up hospitals, schools, famine relief programs, and communities for orphaned or blind children in India, Africa, Australia, South America, Europe, Israel, Russia, and the United States. Thom is the host of a wildly popular national radio program on the Dial-Global network, which is broadcast during radio prime time on stations from coast-to-coast and on satellite radio. He lives in Portland, Oregon, with his wife, Louise. You can find him on the Web at www.thomhartmann.com.
Praise For…
---
"Beneath the success and rise of American enterprise is an untold history that is antithetical to every value Americans hold dear. This is a seminal work, a godsend really, a clear message to every citizen about the need to reform our country, laws, and companies."--Paul Hawken, author of Natural Capitalism and The Ecology of Commerce
"Hartmann combines a remarkable piece of historical rersearch with a brilliant literary style to tell the grand story of corporate corruption and its consequences for society with the force and readability of a great novel. I intended to take a first quick glance and then couldn't put it down."--David C. Korten, author of When Corporations Rule the World
"Unequal Protection should be in the hands of every thinking American. If we do not awaken soon, democracy will be replaced by a new 'Third Reich' of corporate tyranny. To be aware of the danger is the responsibility of each of us. No one has told us the truth better than Thom Hartmann. Read it!"--Gerry Spence, author of Give Me Liberty