Mother-Daughter Duet: Getting to the Relationship You Want with Your Adult Daughter (Paperback)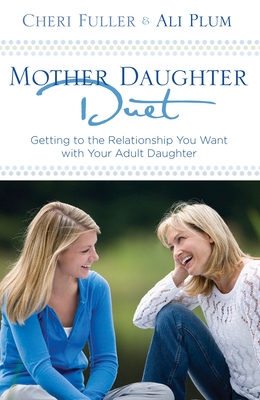 $14.99
Usually Ships in 1-5 Days
Description
---
"A harmonious relationship is possible"
""
When your daughter was born, you had a thousand hopes and dreams for her. . .including that one day you'd be best friends.
But as life unfolds, even the best intentions go awry. There are so many challenges on the journey to adult friendship that the reality is fraught with friction and frustration. Thankfully, a harmonious relationship with your daughter is possible.
Written by a mother and daughter who have successfully navigated the minefield from distance and tension to acceptance and friendship, "Mother-Daughter Duet" helps moms open wide the door of communication so that daughters want to walk through it. Filled with personal anecdotes and based on proven principles, each chapter offers timeless wisdom as well as a daughter's perspective. Often these principles apply to daughters-in-law as well.
The relationship between mothers and daughters is intense, personal, complex, and unique. But you can have the loving, authentic bond you alwaysdreamedof when you learn the mother-daughter duet.
About the Author
---
CHERI FULLER is a best-selling, award-winning author whose books have sold more than one million copies. She speaks to a wide range of women at women's conferences and is a frequent guest on national radio and television programs.

ALI PLUM is Cheri's daughter, a writer and songwriter, a wife, and a mother to Noah and Luke. She and her mom have weathered the ups and downs of their relationship to find one of the most treasured, honest relationships of their lives. Ali has recorded background vocals for popular musicians, and "Mother-Daughter Duet" is her debut into book publishing.
Praise For…
---
Praise for
Mother-Daughter Duet

"The special bond between mothers and daughters doesn't have to vanish as our daughters leave the nest. Written with honesty, insight, and love, Cheri Fuller and Ali Plum take turns giving inspiring advice and practical tips on how mothers and daughters can forge an alliance that offers meaningful gifts to each other. This sweet book will be a wonderful bridge between mothers and their adult daughters."
—SHARON HERSH, author of The Last Addiction and Bravehearts

"Got conflict? Cheri Fuller and Ali Plum have a book that will help you understand the challenges and transitions of the mother-daughter relationship. With meticulous research, personal vulnerability, and 'right-on' wisdom, they reveal tools that bring resolution, understanding, and transformation to complicated relationships. Don't be surprised if you
recognize a version of your own story in this not-to-be-missed book. You'll find answers that produce positive results."
—CAROL KENT, speaker and author of When I Lay My Isaac Down

"Mother-Daughter Duet is a wonderful book, a story told from the heart, full of ideas on how to connect in loving, healthy ways with our daughters and even our daughters-in-law."
—JENNIFER ROTHSCHILD, speaker and author of Lessons I Learned in the Dark

"We shared Mother-Daughter Duet around our office, and we all gained help and hope for relationships with daughters, daughters-in-law, and our own mothers! Thanks for a very honest practical read."
—PAM FARREL, relationship specialist, international speaker, and author of more than thirty books

"Disarmingly honest and inspiring, this amazing book will become your trusted guide through the mysterious waters in your own motherdaughter relationship. If you've ever been tempted to drive four hundred miles to take your sad daughter to lunch, or felt the need to escape your mom's presence abruptly, or hide dark emotions from an overly concerned mom, you'll love the honest insights in the section, 'A Daughter's Perspective.' This book will bring hope for now and help for the uncharted relational territory to come."
—LESLIE PARROTT, founder of Realrelationships.com and author of You Matter More Than You Think

"Mother-Daughter Duet is a helpful and wise resource for those struggling with mother-daughter relationship issues. I gleaned some great tips that will help me be a better friend to my adult daughter."
—LESLIE VERNICK, licensed counselor, speaker, and author of Lord, I Just Want to be Happy and The Emotionally
Destructive Relationship