Love's Exquisite Freedom (Hardcover)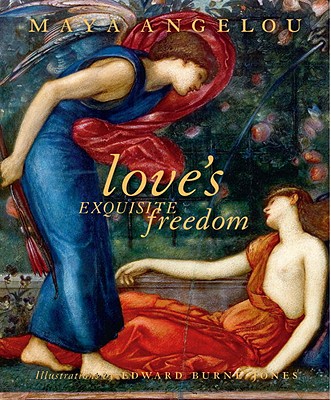 Description
---
The newest installment in Welcome Books' Art & Poetry series, "Love's Exquisite Freedom" pairs the lyrical grace of Maya Angelou with the exquisite art of Edward Burne-Jones. Angelou's poem of love's transcendent power finds a striking, sensual complement in Burne-Jones, a star of 19th century Britain's Aesthetic movement. Burne-Jones continually examined themes of love, while persuasively arguing for the value of art as an object of beauty. Fittingly, many of his works incorporate depictions of angels in various guises: as manifestations of love, redemption, and guidance, even as the Roman god Cupid.
In "Love's Exquisite Freedom," Burne-Jones' contention that art reveals a "a light better than any light that ever shone" is tempered by Angelou's naturalism and earnestness. The combination is an enchanting, powerful exploration of the redemptive quality of love and the unbidden pleasure of emotion. Works featured in the book are exhibited in the Metropolitan Museum of Art and the Harvard Art Museum, among others.
About the Author
---
Dr. Maya Angelou (1928-) is one of the most renowned and influential voices of our time. Hailed as a global renaissance woman, she is a celebrated poet, memoirist, novelist, educator, historian, producer, actor, director, filmmaker and civil rights activist. Born in St. Louis, Missouri, she was raised there and in Stamps, Arkansas. By the mid-50s, she had become a dancer, touring Europe with a production of Porgy and Bess, recorded her first album, Calypso Lady, acted Off-Broadway for the first time and wrote Cabaret for Freedom. In the 1960's. she moved to Cairo and Ghana, editing, teaching and mastering a number of languages, returning in 1964 to America to work first with Malcolm X and then with Dr. Martin Luther King. In the 1970s she wrote screenplays, composed scores, was nominated for a Pulitzer Prize as a screenwriter, appeared on television and in films and published. She is renowned for her series of autobiographies, the most famous being I Know Why the Caged Bird Sings, which was nominated for a National Book Award in 1970. The list of her published verse, non-fiction, and fiction now includes more than 30 bestselling titles. Dr. Angelou has served on two presidential committees, was awarded the Presidential Medal of Arts in 2000, the Lincoln Medal in 2008, and has received 3 Grammy Awards. Dr. Angelou has received over 30 honorary degrees and is Reynolds Professor of American Studies at Wake Forest University. Sir Edward Burne-Jones (1833-1898) was a British artist and designer associated with the Pre-Raphaelites, who worked closely with William Morris on a wide range of decorative arts. His work was focused on ideals of beauty, and on art itself as an object of beauty. Burne-Jones was closely involved in the rejuvenation of the tradition of stained glass art in England where his work can be found in cathedrals. Heavily inspired by Dante Gabriel Rossetti he was rediscovered in the 20th Century, and became the subject of major exhibitions in the late 20th Century at the Barbican Art Gallery London, Tate exhibit and on the 100th anniversary of his death at the Metropolitan Museum of Art in 1998, before traveling to the Birmingham Museum and Art Gallery and the Musee d'Orsay, Paris.
Praise For…
---
"Readers expect superlative performances from celebrated writers and artists when they present new works to the public.  The most recent publication in Welcome Books' Art & Poetry series, Love's Exquisite Freedom, a love poem by Maya Angelou paired with artwor by Pre-Raphaelite artist Edward Burne-Jones, exceeds those high expectations.  It is a treasure, a feast for eye and ear...Love's Exquisite Freedom is a glorious book, one destined to lift readers' spirits each time they revisit it."
- Foreword Reviews