Canyon Wilderness of the Southwest, Mini Edition (Hardcover)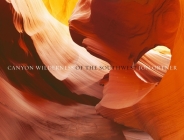 $18.95
Usually Ships in 1-5 Days
Description
---
Straddling the boarders of Utah, Arizona, Colorado, and New Mexico lies a magnificent wilderness known as the Colorado Plateau. Encompassing over 130,000 square miles, it is a high, eroded tableland of rock, canyon, and desert, and within its boundaries are the greatest concentration of National Parks, National Monuments, State Parks, Wilderness areas, BLM holdings, and Native American tribal lands in America.
This mini edition of the oversized, deluxe "Canyon Wilderness of the Southwest" is an awe-inspiring visual odyssey through this incredible landscape. Beautifully photographed by Jon Ortner, this little book showcases more than two hundred images, including seventy-five panoramas. Shot in more than fifty locations across a 130,000-square-mile area of Utah and Arizona, there are thirteen geographical areas included in the book: Vermillion Cliffs Wilderness, Bryce Canyon National Park, Zion National Park, Cedar Breaks National Monument, Grand Staircase - Escalante National Monument, Capitol Reef National Park, Arches National Park, Canyonlands National Park, Grand Gulch, Petrified Forest National Park, Hopi Tribal Lands, Grand Canyon National Park, Navajo Tribal Lands.
From the vast, majestic canyons, to the brilliant, swirling colors of the Grand Staircase and Vermillion Cliffs, Ortner shares his unique vision of a wilderness of rock, at once familiar yet astounding, one of America's greatest natural treasures. This remarkable aassemblage of geological diversity and spectacular beauty attracts millions of American and foreign tourists every year.
With extensive captions about the locations by the photographer and an introduction by the writer Greer K. Chesher.
About the Author
---
Jon Ortner was born in Great Neck, Long Island in 1951. He started painting and drawing at an early age, which laid the foundation for his photography. In college, Jon continued to pursue art, natural history and ecology. In 1978 he moved to New York City with his wife, Martha, where they opened a photo studio and continue to collaborate. Jon's books, "Where Every Breath is a Prayer," "Angkor," and "Buddha "are the culmination of numerous journeys to the far corners of the Himalaya and Southeast Asia. A compilation of NYC images was published as "Manhattan Dawn &Dusk. "His awardwinning images and stories have appeared in numerous
magazines such as "GEO," "Communications Arts," "Travel & Leisure "and "Architectural Digest,"
Jon has turned his focus and passion to the canyons and deserts of the Southwest. From the greatest canyons on earth, to the brilliant swirling colors of the Grand Staircase and Vermillion Cliffs, he has shown us a wilderness of rock at once familiar yet astounding. By creating panoramic portraits of this vast, monumental landscape, he hopes to share his unique vision of the beauty and incomparable majesty of America's greatest natural treasures.

GREER K. CHESHER is a freelance environmental writer. Her most recent books include Heart of the Desert Wild: Grand Staircase, Dinosaur: The Dinosaur National Monument Quarry, and Bryce Canyon Impressions.
Praise For…
---
"Canyon Wilderness of the Southwest presents an outstanding pocket-sized
hardcover tote packed with full-page, gorgeous color photos of canyons of
the Southwest shot by award-winning photographer Jon Ortner. The scenes were
shot in over 50 locations across a 130,000-square-mile area of Utah and
Arizona ad features spectacular geographic diversity. Any armchair traveler
or potential visitor will relish this!"
Wisconsin Bookwatch, California Bookwatch (The Travel
Shelf) and Midwest Book Review (The Photography Bookshelf) 

"Jon Ortner's Canyon Wilderness of the Southwest...is all color. With images of southern Utah's Canyonlands, Bryce Canyon, Arches, and Zion National Park, among other places, this book will teach you just how many ways rock can be red."
New West Magazine

"Part of the charm of living in Colorado is our access to stunning desert canyonlands, which is why the travel-sized CANYON WILDERNESS OF THE SOUTHWEST (May, Welcome Books) is a must-have if you're road-tripping to Utah or Arizona.
Celebrated travel and nature photographer Jon Ortner has captured the otherworldly landscapes of the Colorado Plateau in vivid, dramatic detail that will inspire your journey through red rocks, hoodoos, arches, and sand dunes. Use it as a guide or simply as a complement to your own 'visual odyssey.'"
5280 Magazine, Denver

"It has taken me a while to believe how incredible Jon Ortner's book actually is--especially for its size! A synesthetic reality! I can smell the sandstone, hear the heat popping off the rock, and feel the water on my feet just by looking at these most vivid of all other photographs. Jon makes you feel as if you are there behind the lens, feeling the wild landscapes and canyons all around you!"
Katie Lee, author of All My Rivers are Gone

"This is an indescribably sublime book, a testament to the power of our saved and sacred places to transform our lives, rearrange our molecules and make of us all, as John Muir would say, 'kindred spirits.'"
Ken Burns, Award-winning documentary filmmaker

"...the epitome of color panoramic film photography...the definitive pictorial to the American Southwest...the joy of seeing through his magical eye what we might never see in person."
Kodak ProPass Magazine.

"A traveler's mini edition...and a wonderful one at that, containing 200 photographs that present a stunning panorama of the western wilderness. The price is right and the book is terrific & shy; for your coffee table, for a gift, as a collectible."
Harvey & Myrna Katz Frommer of Travel-Watch.com