100 Promises to My Baby (Hardcover)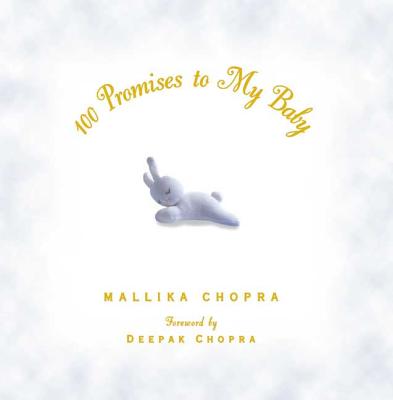 Description
---
"The world was never changed or transformed by politicians, or for that matter, by scientists. The mothers of the world hold the keys. . . ."--from the Foreword
As she eagerly awaited the birth of her first child, Mallika Chopra began to craft a unique gift that would express her profound loving commitment to the baby growing inside of her.
100 Promises to My Baby is that gift--one that reflects her deep awareness of the sacred responsibilities of parenthood. Here the author shares the vows she made to help her child--and all children--grow up feeling cherished and secure, look at the world with wonder and curiosity, and learn spiritual values that enrich life and contribute to making the world a better place. Accompanying the 100 promises are short essays, reflections, poems, and stories that have inspired the author throughout her life--and that will inspire readers to think about their own lives, values, and beliefs, and what they would like to pass on to their children.
To learn more about the book, visit www.babypromises.com.
About the Author
---
MALLIKA CHOPRA, mother of Tara and Leela Mandal, is an author and producer who enjoys taking creative concepts and developing them into cross-cultural, empowering products. She is a partner in Chopra Media, which develops television programming, film concepts, and media products. She is also a partner in the popular K Lounge in New York City.
Praise For…
---
"This book is a Godsend. It reveals the deep emotional secrets of bonding with your children--secrets that will nurture them to become loving, mature, and secure human beings."--Debbie Ford, #1 New York Times bestselling author of The Dark Side of the Light Chasers, Spiritual Divorce, and The Best Year of Your Life

"Mallika Chopra has written a wonderful guide for the well-meaning parent, a true gift to anyone to wants to bless their children with genuine peace and love."--Marianne Williamson, bestselling author of The Gift of Change and A Return to Love