Train Your Mind, Change Your Brain: How a New Science Reveals Our Extraordinary Potential to Transform Ourselves (Abridged / Compact Disc)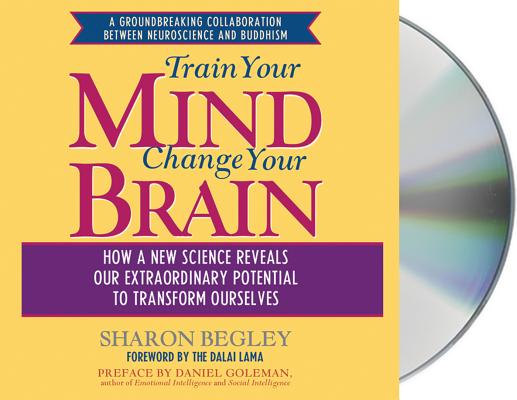 $29.95
Usually Ships in 1-5 Days
Description
---
Is change possible? Everyone who has tried and failed, wished they could be happier, or has been told they were too old to learn something, has wondered why we just seem to be stuck with ourselves. But this amazing and hopeful audiobook shows us that it is not only possible for us to control our brains but also for us to rewire them.
In late 2004, the Mind and Life Institute brought Western Scientists together with the Dalai Lama and other distinguished Buddhist masters to discuss the cutting edge research being conducted in neuroplasticity, which examines whether neurons can be changed and even grown.
The findings are as astonishing as they are helpful. Flying in the face of previous assumptions, the current research shows that not only is it possible for us to change the physical brain, but it is within reach of every single one of us.
Through research into neuroplasticity, it has been shown that we can:
- Reset our happiness meter
- Heal from depression, even major episodes
- Learn new skills even in old age
- Learn--and even teach--compassion, a critical finding for personal happiness and a more peaceful world
Surprising, encouraging, and full of good news that we all want to hear, Sharon Begley's Train Your Mind, Change Your Brain will help us not only change our brains but also the way we approach our lives--for the better.
About the Author
---
Sharon Begley is the science editor of the The Wall Street Journal and was formerly a senior editor at Newsweek magazine for twenty-five years. She has won many awards for her articles and is a frequent guest on radio and television, discussing science topics on The Charlie Rose Show, Today Weekend, the CBS Morning Show, the Imus Show, Fox & Friends and others.Eliza Foss has performed in numerous theaters both in New York City and around the country. She's performed in Ten Unknown, Natural Selection, and Angels Don't Dance, among others. She has appeared in the films Split Ends and Chutney Popcorn as well as on television in Law & Order and The Merrow Report. She holds a M.F.A from the New York University Graduate Acting Program. Eliza has narrated over thirty audiobooks and short stories, including The Mermaid Chair by Sue Monk Kidd, The Beck Diet Solution by Judith S. Beck, and Big Love by Sarah Dunn. She was featured in AudioFile magazine as one of "audio's hottest romance narrators."