Earn the Right to Win: How Success in Any Field Starts with Superior Preparation (Hardcover)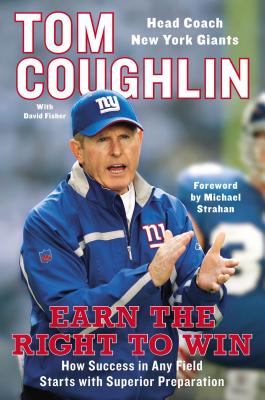 Description
---
Preparation is easy to praise but very hard to master. No modern coach, in any sport, understands that better than NFL veteran Tom Coughlin.
He led the New York Giants to two Super Bowl victories with his system of relentless preparation and old-school resilience. He teaches his players that you can never guarantee a win, but you can always earn the right to win with focus, consistency, hard work, and anticipation of obstacles. And if you ve earned the right to win, you can sleep soundly before a big game and take the field with confidence.
Now Coughlin shares his best advice and anecdotes and shows how they apply beyond the gridiron. His philosophy focuses on mental preparation and consistency in the face of adversity. And his direct, honest wisdom can help leaders in any field rev up their own organizations. Coughlin's lessons include: Using time efficiently, both in making and sticking to a schedule and planning for the long-termPreparing for unexpected opportunities and building flexibility into your game planPaying close attention to the details, because every piece of information is an advantage over the competitionEstablishing trust and open communication with your teamCoughlin illustrates his lessons with previously untold stories about prominent players like Eli Manning, Doug Flutie, and Michael Strahan.
"Earn the Right to Win" can help you master a winning combination: preparation, smart decision making, and toughness in the face of adversity. It's a powerful guide for leaders in any kind of organization.

About the Author
---
Tom Coughlin is the head coach of the New York Giants and one of the most successful coaches in NFL history. Before winning two Super Bowls with the Giants, he coached the Jacksonville Jaguars for nine seasons, leading them to two appearances in the AFC Championship Game. Before that he was the head football coach at Boston College and an assistant coach for three NFL teams. He lives in New Jersey with his wife, Judy. They have four children and eleven grandchildren.

David Fisher is the author of seventeen "New York Times" bestsellers, among them collaborations with Hall of Famers Terry Bradshaw and Tommy Lasorda; entertainers George Burns, Leslie Nielsen, and William Shatner; and Nobel Prize winning biochemist Kary Mullis. He lives in New York."