The Spectacle of Death: Populist Literary Responses to American Capital Cases (Paperback)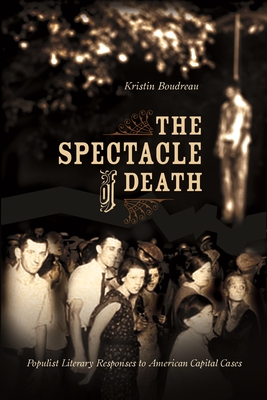 Description
---
In 1787, Benjamin Rush cautioned that public punishments were dangerous to the social and legal authority of the new nation. For Rush, irrepressible human sentiments all but guaranteed that public punishments would turn spectators against the institutions responsible for the punishments. Although public executions of criminals ended early in the 19th century, debate over the morality of capital punishment has continued to this day.
In this unique and fascinating glimpse into public reactions to prominent executions, from colonial times to the 1990s, Kristin Boudreau focuses on the central role of populist, often ephemeral literary forms in shaping attitudes toward capital punishment. Surveying popular poems, ballads, plays, and novels, she shows that, at key times of social unrest in American history, many Americans have felt excluded by the political and legal processes, and have turned instead to inexpensive literary forms of expression in an attempt to change the course of history.
Among the significant capital cases that the author discusses are: the Haymarket anarchist trial of 1886; the lynching of Leo Frank in 1914; the murder of Emmett Till in 1955 and its effects on the Civil Rights movement; Norman Mailer's treatment of the Gary Gilmore case in the 1979 novel, The Executioner's Song; and the 1998 execution of Karla Faye Tucker, a convicted murderer who became a born-again Christian on death row.
In the concluding chapter, Boudreau examines contemporary writers, musicians, actors, and other artists who are using their artistic media to influence official policies of states that permit capital punishment.
By examining these neglected texts, Boudreau brings to light a compelling story about ordinary Americans fighting an entrenched legal system at times of great national crisis.
About the Author
---
Kristin Boudreau is the Paris Fletcher Distinguished Professor in the Humanities and Arts, the head of the Department of Humanities and Arts, and associate dean of arts and sciences at the Worcester Polytechnic Institute in Worcester, Massachusetts. She has written about the literature of slavery, the labor movement, capital cases, and modernization in more than twenty refereed journal publications and book chapters and in four books: Sympathy in American Literature: American Sentiment from Jefferson to the Jameses (University Press of Florida, 2002); The Spectacle of Death: Populist Literary Responses to American Capital Cases (Prometheus Books, 2006); Henry James's Narrative Technique: Consciousness, Perception, and Cognition (Palgrave Macmillan, 2010); and Henry James's Daisy Miller (Broadview edition, 2012; Boudreau was co-editor and wrote the introduction). She holds a BA in English from Cornell University and an MA and a PhD in English from the University of Rochester.
Praise For…
---
"This exploration of execution literature offers not only close analysis of literary works—from bestselling books to little-known poems—inspired by publicly sanctioned deaths, but also vivid retellings of some less than judicious episodes in America's past….Boudreau's…consideration of literature of the public conscience—whether watershed or nearly anonymous—is thought-provoking and timely."

- Publishers Weekly


"The Spectacle of Death ... is a very readable and fascinating trip through American history. It ... makes an important contribution to our knowledge of America's vexed relationship to the ultimate punishment."

- Austin Sarat
William Nelson Cromwell Professor of Jurisprudence
and Political Science, Amherst College