God Is Not Through with Me Yet: Holding on to the One Who Holds You Close (Hardcover)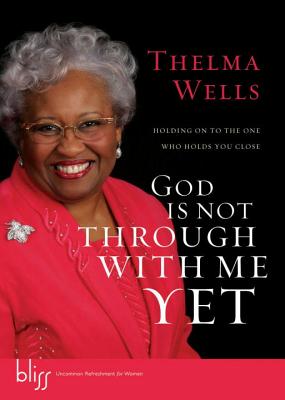 Description
---
Thelma Wells has known a lifetime of achievements and victories over obstacles, as well as a wealth of meaningful relationships and abundant ministry to countless others. But recently, God led her into dark valleys including an almost fatal illness as part of His plan to deepen her firsthand knowledge of Himself as the Great I AM. This rich experience is what she shares with you, along with plenty of smiles and laughter, in "God Is Not Through with Me Yet."
She's the first to say, Thelma doesn t have it all together. No one has it all together. But the Lord has filled her heart to overflowing with new appreciation for His loving wisdom and His healing truth. It's an overflow that spills out, with clarity, and humor, on every page of this book.
With personal stories and solid biblical teaching that open your heart to God's truth, Thelma guides you to a deeper faith and an exuberant desire to follow your Lord even through your life's most turbulent storms. With the warmth of a grandmother, the wit of a jokester, and the wisdom of a woman in the Word, Thelma opens your eyes to the full wholeness God has for you.
About the Author
---
Thelma Wells is a popular Women of Faith core speaker and the president of A Woman of God Ministries in Dallas, Texas. She has received more than two hundred awards for civic, community, church, and national involvement. She has earned a master s degree in pastoral ministry, and is the author of several books, including "The Buzz: 7 Power-Packed Scriptures to Energize You Life"; "Girl, I Have Got Good News For You!"; "What s Going On, Lord?"; and "God Will Make a Way."

Thelma describes her husband, George, as her encourage, supporter, and best friend. They have three married children, ten grandchildren, and one great-grandchild. Thelma s extended family includes at least on hundred daughters she has mentored through Daughters of Zion Leadership Mentoring Program, plus thousands more she mentors via the Internet. They affectionately call her Mama T."
Praise For…
---
"When Thelma Wells speaks, I listen. When she inspires, I grow stronger. And when she smiles, well…no one smiles like Thelma Wells! For anyone needing good teaching, encouragement, or a smile, this is your book!"
- Max Lucado, bestselling author and senior minister, Oak Hills Church, Antonio, Texas

"There are some huge life lessons to be learned in this book that can save others so much grief if they will but read it. And Thelma's humor makes for such fun reading! Thank you, God, for her much-needed honesty and transparency!"
- Marilyn Hogue, Speaker, Author, and CoPastor, Citychurch, Oklahoma City, and Metrochurch, Edmond, Oklahoma

"I enjoyed reading every page of this inspirational and encouraging book. God is Not Through With Me Yet is a must-read."
- Madeline Balletta, President and Founder, Bee-Alive Inc.

"Impassioned, profound, and unmistakably poignant in delivering this life-changing message: 'Never give up on God. He is right in the middle of every storm you are in, ready and able to comfort and deliver."
- Dr. Gary and Barbara Rosberg, speakers, authors, and cohosts of a nationally syndicated, daily radio program about marriage

"This is a must-read for anyone who is serious about reaching their God-given potential. God is Not Through With Me Yet is her most in-depth, personal, and insightful book to date."
- Sabrina O'Malone, President, WorkingMom.com

"Thelma Wells enlightens, encourages, and inspires us to cherish the tough times God has blessed us with. Read, digest, live the warm wisdom from a woman of God who was encouraged by the idea that God is still working on her."
- John VanDiest, author, associate publisher, Tyndale