Lipstick Grace: Glimpses of Life, Love, and the Quest for the Perfect Lip Gloss (Paperback)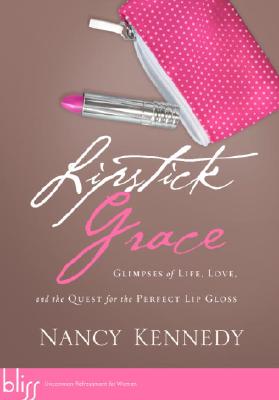 Description
---
The Just-Right Shade of Grace Hmmm....Kissable Kiwi or Fire Engine Red? To hold your child tight like you desperately want to, or let him go like he needs? Every woman grapples with such life issues and intangibles as faith, mercy, grace, and hope...but few have the ability to dress theology in blue jeans and flip-flops like Nancy Kennedy.
A compilation of witty weekly columns written by Nancy for the Citrus County Chronicle in Florida, Lipstick Grace contains many musings-not all of which wrap up in nice, neat packages (because the important things in life rarely do ). In this reflective collection, you'll find the sufficiency of God holding you steady. It's big enough for all of you: your greatest fears, your deepest doubts, and your bathroom drawer full of all the wrong shades of lipstick.
About the Author
---
Nancy Kennedy has been awarded first place in Excellence in Religion Writing several times from the Florida Press Club over the past fifteen years on staff at her local daily newspaper, the Citrus County Chronicle. A member of the Advanced Writers and Speakers Association, Nancy is a sought-after speaker for women's conferences and retreats, and has appeared on radio programs including Family Life Today and Renewing the Heart. She lives in Inverness, Florida, with her husband, Barry.
Praise For…
---
"Lipstick Grace is so beautifully written that I experienced a great understanding of god's matchless, endless, all-encompassing love and grace for each of us — in spite of who we are and what we do. Definitely a must-read and share-it-with-your-friends book."
Thelma Wells
Women of Faith conference speaker
Author of God is Not Through With Me Yet

"Nancy Kennedy nailed me on the first page! In reading this collection of Nancy's perceptive, amusing, and extremely honest newspaper columns, I felt like I was captured and taken on an enthralling journey — a journey where the ordinary happenings of our lives become filled by the wisest, most unexpected insights. I know I'm never going to look at lipstick the same way again."
Shaunti Feldhahn
Bestselling author of For Women Only