Sierra Jensen Collection: Open Your Heart/Time Will Tell/Now Picture This (Hardcover)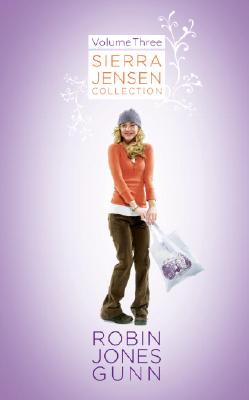 $15.99
Usually Ships in 1-5 Days
Description
---
Happenstance or God's Great Plan?
She's the bold, free-spirited type. She's cute, she's fun, and she's following God. She's Sierra Jensen, Christy Miller's good friend, ready for her junior year of high school All twelve books in the popular Sierra Jensen series come together in four volumes to reveal the ups and downs of Sierra's incredible God-led journey
Volume Three: An exciting trip to Europe challenges Sierra to "Open Your Heart "to loving others without expectations. At the start of her senior year, only "Time Will Tell" the truth about Sierra's friendships. And in "Now Picture This, " she wonders if her relationship with Paul is as picture perfect as she thinks
Christy Miller knows a good friend when she meets her,
and so will you Sierra Jensen is at it again
"Open Your Heart "
What an adventure Having Christy Miller invite Sierra on an all-expenses-paid trip to Europe was amazing but that was just the beginning. Sierra never imagined she d meet someone like Alex, a dark-eyed Russian college student who's a Christian. Or that they d all come face-to-face with disaster. Through it all, one question haunts Sierra: c an she learn to love others without expecting anything in return? Will she finally be able to open her heart to others and to God?
"Time Will Tell "
Sierra's senior year of high school is here, but after the great summer she just had, how can it be anything but a letdown? Sure enough, the year tanks big-time when the school issues her buddy Randy an ultimatum. Stuck in the middle Sierra wonders, what's right? Her friend or the rules? She longs to talk it over with Amy, but Sierra's best friend still isn t talking to her. What's worse, she hasn t heard a word from Paul No doubt about it, this school year is totally frustrating Will Sierra "ever" understand her friendships or God's plans for them?
"Now Picture This "
Why can t everyone just leave Sierra "alone?" All she wants to do is find a place to read the letter she just received from Paul to soak in every word and memorize the photo he sent her but Thanksgiving at the Jensen house means relatives "every"where Sierra hides out, immersed in her ideas for Paul's birthday and Christmas gifts, especially his requested gift: a photo of her. Sierra's determined the photo has to be spectacular But a small voice of doubt nags at her. What does God think of her ignoring her family and friends this way? Is her picture-perfect relationship with Paul really all she thinks it is?
Story Behind the Book
After writing the twelve-book Christy Miller series for teens, a new character showed up on the pages of the final novel. Her name was Sierra Jensen, and she was so compelling as a teenage character that readers began asking for a series about Sierra in order to hear more about her life choices. Our family had just moved to Portland at the time, and I found it easy to picture a sixteen-year-old like Sierra shopping at the local vintage clothing stores, hanging out with friends at a garage band concert, and serving at the homeless shelter on weekends.
Robin Jones Gunn.
About the Author
---
Robin Jones Gunn is a God-lover who can t stop telling stories. And by the way, she s still crazy about her husband after twenty-eight years and confesses their two kids turned out pretty good only because of the extravagant grace poured out on their family."