The Treasure Principle (Hardcover)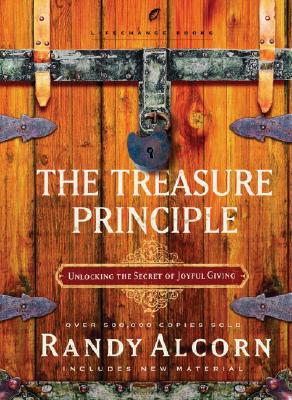 Description
---
Flip-Flop Your Concept of Giving Bestselling author Randy Alcorn introduced readers to a revolution in material freedom and radical generosity with the release of the original The Treasure Principle in 2001. Now the revision to the compact, perennial bestseller includes a provocative new concluding chapter depicting God asking a believer questions about his stewardship over material resources. Readers are moved from the realms of thoughtful Bible exposition into the highly personal arena of everyday life. Because when Jesus told His followers to "lay up for yourselves treasures in heaven," He intended that they discover an astounding secret: how joyful giving brings God maximum glory and His children maximum pleasure. Discover a joy more precious than gold Priceless treasure is within your reach. And with it, liberating joy. In Randy Alcorn 's The Treasure Principle, you'll unearth a radical teaching of Jesus--a secret wrapped up in giving. Once you discover this secret, life will never look the same. And you won't want it to

Story Behind the Book
After years of writing and teaching on the theme "God owns everything," in 1990 Randy Alcorn was sued by an abortion clinic (for peaceful, nonviolent intervention for the unborn). Suddenly he had to resign as a pastor and was restricted to making minimum wage. Legally unable to own anything, Randy gave all his book royalties to missions work and need-meeting ministries. He and his family have experienced the reality of The Treasure Principle--that God really does own everything, takes care of us, and graciously puts assets into our hands that we might have the joy and privilege of investing in what will last for eternity.
About the Author
---
Randy Alcorn is the founder and director of Eternal Perspective Ministries (EPM). He is the bestselling author of twenty books, with over one million in print, including the novels Deadline, Dominion, Lord Foulgrin's Letters and the Gold Medallion winner Safely Home. His fourteen nonfiction works include ProLife Answers to ProChoice Arguments, and the stewardship classic Money, Possessions and Eternity. He and his wife, Nanci, live in Gresham, Oregon, and have two grown daughters, Karina and Angela. He enjoys hanging out with his family, biking, tennis, research, and reading.