God Can Not Be Trusted: And Five Other Lies of Satan (Hardcover)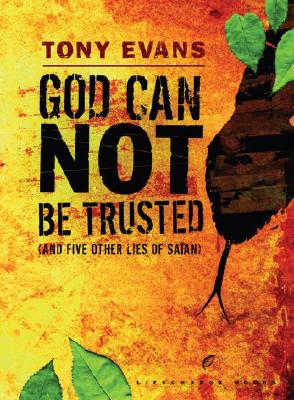 $9.99
Usually Ships in 1-5 Days
Description
---
Does God Really Have Your Best Interest at Heart?
Doubting His holiness? Thinking maybe you shouldn't completely surrender to Him, that you're better off in charge of your own life? Well, say hello to the father of these lies: Satan. He's an old pro using the same brilliant, deceptive tactics to harm you every time--unless you dare call his bluff and refuse to ever be his victim again. In God Can Not Be Trusted (and Five Other Lies of Satan), you'll discover how to recognize the devil's six ancient tactics, and claim victory over each one. Your only hope is in the power of Jesus Christ. Because only Christ can conquer Satan. He already has. So flood your mind with truth, and begin to see the lies for what they are. You'll never be duped by them again, free to live abundantly in light of God's truth
Have You Been Fooled?
God must be out to get me.
I'm better off doing my own thing.
Sure it's a sin, but I can get away with it
Do you recognize these thoughts? Then you have been fooled. And Satan is laughing.
Because if he can deceive you, he will destroy your state of mind, ruin your relationships, and steal your joy. Do not let him.
Dr. Tony Evans equips you to recognize Satan's conniving tactics and boldly declare his lies for what they are. Winning this game is easier than you may think. And victorious living in light of God's truth is your daily reward
Story Behind the Book
A common theme emerged as Tony Evans held counseling sessions with countless individuals. People seemed completely unaware of how the spiritual realm was at work in their lives. "They saw clearly with their physical eyes," he says, "but remained unaware of the evil, unseen spiritual activity that either caused or aggravated their physical world. Even in my own life, when I faced challenges or struggles, I would often reference the physical system without first looking at the spiritual cause," says Tony. "Thus this book's message was born to more effectively help people understand and address their struggles from a spiritual point of view.
About the Author
---
Tony Evans, the first African-American to graduate with a doctoral degree from Dallas Theological Seminary, is senior pastor of the 7,000-member Oak Cliff Bible Fellowship and president of The Urban Alternative, a national organization that seeks to bring about spiritual renewal in urban America. His radio broadcast, The Alternative, can be heard on more than 500 stations daily throughout the U.S. and worldwide. Lois Evans, his wife, best friend, and long time collaborator, is the coauthor of several books and has recorded two albums. Tony and Lois have four children and four grandchildren.