Creating Community (Hardcover)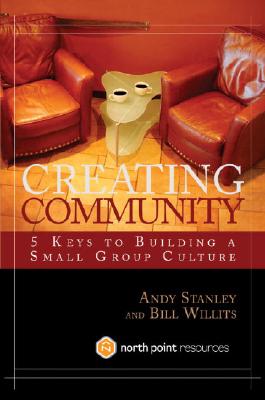 Description
---
Small Groups That Succeed.
Small groups are the key to impacting lives in your church. But a healthy small-group environment--one that fosters meaningful, lasting connections--doesn't just happen.
So pull up a chair. Let's talk about how to make it happen.
Bill Willits and bestselling author Andy Stanley share their successful approach, which has resulted in nearly eight thousand adults becoming involved in small groups at North Point Community Church in Atlanta . Simply put, the five principles clearly described here have passed the test.
This is not just another book about community; this is a book about strategy--strategy that builds a small group culture. Creating Community shares clear and simple principles to help people connect into meaningful relationships. The kind God desires for each of us. The kind He uses to change our lives.
Put this proven method to work in your ministry and enjoy the tangible results--God's people doing life TOGETHER.
-The small-group program at North Point Community Church is not an appendage; it is not a program we tacked on to an existing structure. It is part of our lifestyle. We think groups. We organize groups. We are driven by groups. Creating Community contains our blueprint for success. And I believe it has the potential power to revolutionize your own small-group ministry - -- Andy Stanley
Story Behind the Book
Creating Community flows out of the North Point Community Church story. The message here is not just some new small group program, but reflects a passion lived out and implemented in their church from the very beginning. Even with phenomenal growth, the church has stayed true to its commitment to small groups and has fine-tuned its ministry process into one of the most unique and effective models in churches today. Andy Stanley and Bill Willits have put these successful principles into this new book with the hope and prayer that pastors, churches, and leader with put them into practice.
About the Author
---
Andy Stanley Communicator, author, and pastor, ANDY STANLEY founded Atlanta-based North Point Ministries in 1995. Today, NPM is comprised of six churches in the Atlanta area and a network 30 churches around the globe collectively serving nearly 70,000 people weekly. As host of Your Move with Andy Stanley, with over five million messages consumed each month through television and podcasts, and author of more than 20 books, including The New Rules for Love, Sex & Dating, Ask It, How to Be Rich, Deep & Wide, Visioneering, and Next Generation Leader, he is considered one of the most-influential pastors in America. Andy and his wife, Sandra, have three grown children and live near Atlanta.