On Becoming an Alchemist: A Guide for the Modern Magician (Paperback)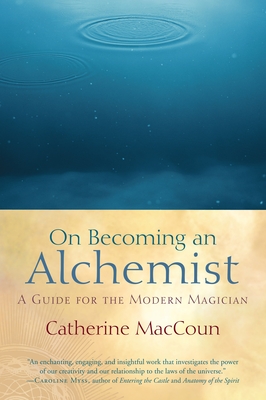 $22.95
Usually Ships in 1-5 Days
Description
---
Many regard alchemy as a metaphor for inner transformation. But this is only half the story. According to Catherine MacCoun, alchemy is no mere metaphor. It's real magic. Transforming the inner world is, for the alchemist, a way to transform the outer world. Through studying the principles of alchemy, we can achieve extraordinary effects from ordinary actions by understanding how the world really works. We can perceive the hidden connections between the spiritual and the material worlds. Knowledge of these connections enables us to influence external phenomena through the powers of heart and mind alone. Yet alchemy is not, like some forms of magic, the exercise of mind over matter. It is the art of taking what already exists--whatever presents itself--and transmuting the harmful into the helpful, the useless into the valuable.
On Becoming an Alchemist initiates us into these secrets, showing us how to think, perceive, and operate as an alchemist. It offers practical advice and exercises that will help the modern magician to:
● Understand and apply basic principles of alchemy
● Transmute setbacks, failures, and losses into sources of magical power
● Navigate one's inner world with poise, confidence, and common sense
● Intuitively show up in the right place at the right time to benefit from magical coincidences
● Discover the potentials latent in any situation by awakening subtle perception
About the Author
---
Catherine MacCoun is a literary collaborator by profession and has written five published volumes of nonfiction. Her novel, Beyond the Abbey Gates, was originally published as The Age of Miracles, in 1990, and reissued as a Trumpeter book in 2006. She has won numerous grants and awards for her writing, including a National Endowment for the Arts fellowship in prose.
Praise For…
---
"What MacCoun gives us in her book is a great telling of the workability of magic complete with history, principles, and procedures. She believes that we all have the ability to perform magic, to transform our lives and our world for the better."—Evolve! Magazine

"A richly gratifying exploration of alchemy. MacCoun represents this ancient art as a kind of spiritual graduate school."—Publishers Weekly (starred review)

"An enchanting, engaging, and insightful work that investigates the power of our creativity and our relationship to the laws of the universe."—Caroline Myss, author of Entering the Castle and Anatomy of the Spirit

"Catherine MacCoun is a great communicator, and she knows her stuff from the inside too. Blows a bright and refreshing breeze through the musty halls of hermetic and magical symbolism, and lays it all on the line. Highly recommended."—Gareth Knight, author of Magic and the Western Mind

"A true alchemist, Catherine MacCoun has transformed profound ideas into a gold standard of what a book on magic should be. Excellently written with prose that sparkles with clarity and wit, this book can serve novice and advanced practitioner alike with equal grace and insight."—David Spangler, author of Blessing and Everyday Miracles

"Many discussions of alchemy are hopelessly dense and opaque; this one is full of light and life. With admirable clarity, MacCoun shows how alchemy can benefit one's life here and now. This is uncluttered, everyday wisdom; the most accessible discussion of the psychospiritual dimensions of alchemy to appear in years."―Larry Dossey, MD, author of The Extraordinary Healing Power of Ordinary Things