Everything Is God: The Radical Path of Nondual Judaism (Paperback)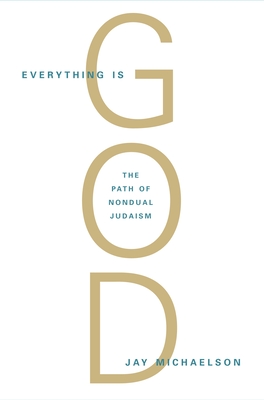 Description
---
This exploration of the radical, yet ancient, idea that everything and everyone is God will transform how you understand your life and the nature of religion itself. While God is conventionally viewed as an entity separate from us, there are some Jews Kabbalists, Hasidim, and their modern-day heirs who assert that God is not separate from us at all. In this nondual view, everyone and everything manifests God. For centuries a closely guarded secret of Kabbalah, nondual Judaism is a radical reorientation of religious life that is increasingly influencing mainstream Judaism today.
Writer and scholar Jay Michaelson presents a wide-ranging and compelling explanation of nondual Judaism: what it is, its traditional and contemporary sources, its historical roots and philosophical significance, how it compares to nondual Buddhism and Hinduism, and how it is lived in practice. He explains what this mystical nondual view means in our daily ego-centered lives, for our communities, and for the future of Judaism.
About the Author
---
Jay Michaelson is a scholar and activist who has written extensively on spirituality, Judaism, sexuality, and law. He is the author of God in Your Body and the founding editor of the award-winning publication Zeek: A Jewish Journal of Thought and Culture. He is a columnist for The Forward, the Huffington Post, and Tikkun. He holds a JD from Yale University and is completing his PhD in Jewish thought at the Hebrew University of Jerusalem.
Praise For…
---
"One of the most widely read Jewish writers of his generation…Michaelson's deeply contemplative, thoughtful book will open the doors of the heart and mind to the possibility that what we have come to take for the "self" is just a way to label the way things look from a certain angle."—Spirituality & Health magazine 

"[Michaelson] writes with clarity, passion, and a poetic sensibility."—Jewish Week


"Jay Michaelson's captivating post-secular musings present for the generation of the new Jewish culture a vision of expanded religious possibilities."—Forward 

"Stripping away the barnacles of outdated concepts, Jay Michaelson aligns the best nondual thinking in Judaism with the best nondual thinking in other profound systems. Everything Is God is a timely and necessary contribution."—Rabbi Zalman Schachter-Shalomi, coauthor of Jewish with Feeling

"Jay Michaelson has written a poetic, detailed, and radical book expressing a Jewish language of oneness: not the oneness of a bearded man in the sky but the Oneness of a universe not divided against itself. He gives the reader a gift of self-beyond-the-self, a gift that cannot be owned but is well worth having."—Rabbi Jill Hammer, author of The Jewish Book of Days

"This is an awesome, highly recommended presentation of crucial mystical concepts."—Rabbi David A. Cooper, author of God Is a Verb

"Fantastic—a book that offers a compelling theology for thinking Jews! Read this book, and buy a copy for your rabbi as well."—Rabbi Rami Shapiro, author of The Sacred Art of Lovingkindness

"Michaelson patiently explains, again and again, truths that are beyond words. He shares this treasure generously and passionately."—Rabbi Jacob Staub, Professor of Jewish Philosophy and Spirituality, Reconstructionist Rabbinical College

"If my mind were not already God's unstretchable Mind, I'd say the book is a mind-stretcher. And if the book were not already God, beyond even delight, I'd say the book is a delight."—Rabbi Arthur Waskow, author of Godwrestling: Round 2

"Compelling . . . jolts us from an ego-centered illusion of separateness. The author's language of oneness is certain to resonate with a younger generation of spiritual seekers."—Jewish Book World