Little Flowers of Francis of Assisi: A New Translation (Paperback)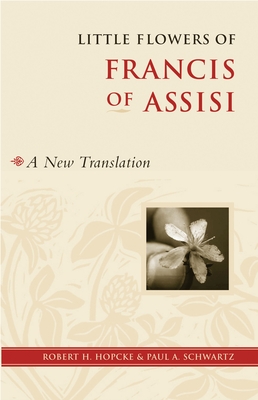 $19.95
Usually Ships in 1-5 Days
Description
---
This collection of folk tales, legends, and narratives about the life of Francis of Assisi and his followers appeared about seventy-five years after the saint's death, in the early fourteenth century. The writings have remained popular ever since due to their beauty and charm, and because they are the nearest thing to a biography of Francis that exists. They are the source of many of the most famous stories about Francis--including the accounts of his preaching to the birds and of his receiving of the stigmata--and they are based on stories that circulated about him in the years after his death.
Robert Hopcke and Paul Schwartz provide the first truly new translation of the Fioretti in forty years, and in doing so they bring the spiritual classic up to date, using contemporary language to show Francis to be a living, breathing human being who walked the streets of Assisi in a state of spiritual, physical, and social enlightenment, through his own existence making Christ real in the world.
The translators have also edited the work to present the stories that most powerfully present Francis's spirit and teaching.
About the Author
---
Robert H. Hopcke is a licensed marriage and family therapist with degrees in both pastoral and clinical counseling. He is the author of numerous books, including There Are No Accidents and Living the Mysteries: The Spiritual Power of the Rosary in the Lives of Contemporary People. Paul A. Schwartz holds a doctorate in theology from the Graduate Theological Union, Berkeley, California, where he was Project Director of the Center for the Study of New Religious Movements. He has served on the faculty of San Francisco State University and of the California Institute of Integral Studies.
Praise For…
---
"Hopcke and Schwartz succeed in telling the tales of Francis's ministry . . . in readable and simple language for contemporary American readers. . . . The compact and nicely translated collection is sure to accomplish its mission of presenting the life of this beloved saint."—Publishers Weekly

"This fresh and vibrant new translation of charming tales from the life of St. Francis of Assisi highlights the radical way that Francis lived out the Gospel. These stories—some legendary, some based in fact, some well known, some more obscure—clearly show the revolutionary impact that Francis had on his contemporaries, and how following the teachings of Jesus can be a subversive way of life. First written in the early fourteenth century, the Little Flowers remain a dramatic challenge to a world still obsessed with wealth, power, and self-interest."—James Martin, SJ, Associate Editor, America, and author of My Life with the Saints

"What a delight to have Hopcke's and Schwartz's lively renderings. In the spirit of the Italian vernacular in which they were first told and written, these tales of St. Francis show his earthiness, sensuous love of life, occasional vulgarity, and deep spiritual wisdom. Pace e bene!"—Jon M. Sweeney, author of The St. Francis Prayer Book and The Lure of the Saints