The Lost Island (Hardcover)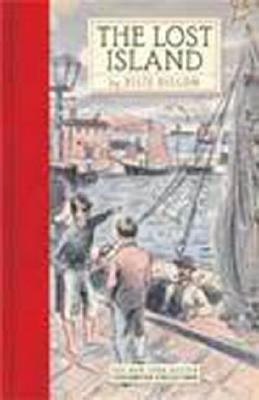 Description
---
Folks in young Michael Farrell's town have been speculating about the lost island of Inishmanann for generations. Some say that the island is the last stronghold of the old god of the sea; others, that no on who has gone in search of it has returned to tell the tale. But everyone agrees that for a brave and enterprising spirit the island holds out the promise of things "rare and valuable."
Four years ago, Michael's father became obsessed with tracking down the elusive island. He bought a fishing boat and set sail. No one has heard from him since. Then a shifty beggar turns up in town with a message for Michael Farrell: his father is on the island, and Michael must join him there.
About the Author
---
EILIS DILLON (1920 1994) wrote more than thirty books for young people," "as well as fiction for adults, including the best-selling historical novel "Across the Bitter Sea," about the struggle for Irish independence in the nineteenth and twentieth centuries. With few exceptions, her young people s books are set in the west of Ireland, in small communities struggling to make a living on the islands and along the Atlantic coast. As the critic Declan Kiberd wrote in Dillon s obituary: What Laura Ingalls Wilder did for children s literature in the US, she achieved in Ireland, imparting a sure historical sense in books such as "The Singing Cave." That interest in history was a natural expression of her curiosity of mind, and of her family inheritance.

RICHARD KENNEDY (1910 1989) illustrated several of Eilis Dillon s books for children. In addition to collaborating on the early design of Puffin Books, Kennedy provided illustrations for several of the press s most celebrated writers, including J. M. Barrie (creator of Peter Pan) and Astrid Lindgren (creator of Pippi Longstocking). His illustrated memoir of working with Leonard and Virginia Woolf in the 1920s was published as "A Boy at the Hogarth Press.""
Praise For…
---
"Eilis Dillon, an Irish writer, has concocted an A-1 adventure story. The ingredients are familiar, but the final product has the fresh charm of a fine, spring morn in Galway."—The New York Times

"The book…holds the reader enthralled to its conclusion."—The Horn Book

"As original and as full of apprehensive suspense as a Graham Greene entertainment for grown-ups."—The New Statesman

"When Miss Dillon writes of the sea, one can almost get the tang of salt and hear the waves breaking on a rocky shore."—The Irish Independent

"Simply a good writer…. Loving and understanding people, and concerned to tell stories that are as exciting as adventure stories should be but in which the events are tied firmly to human possibility." —The Time Literary Supplement

"Her books are remarkable for their distinctive recreation of rural Ireland; the men living close to the land or sea, as farmworkers or fishermen; the women working equally hard in their small houses, caring for their menfolk and their children; and the children themselves, seen essentially as a part of the community with their own place in it and their own chores to carry out at home, having only so much liberty to range the countryside, with its rich wildlife and its possibilities of adventure." —Winifred Whitehead