Wondrous Cold: An Antartic Journey (Hardcover)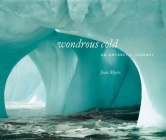 $35.00
Usually Ships in 1-5 Days
Description
---
For centuries Antarctica has captured the imagination of explorers, scientists, and armchair travelers. Its starkly beautiful landscape, extraordinary wildlife, and harsh climate only begin to suggest the wonders of the world's least understood continent.

Intrigued by a part of the planet vividly described in the journals of explorers Robert Falcon Scott and Ernest Henry Shackleton, award-winning photographer Joan Myers set out to see for herself why people are drawn to such an inhospitable and uncompromising place. Over the course of several trips, Myers traversed the continent by foot, plane, helicopter, snowmobile, and Coast Guard icebreaker. Working in below-freezing temperatures, braving blizzards and wind chills as low as -84°F, she captured entrancing panoramas of Antarctica's beauty and vast scale, teeming penguin rookeries and docile seals, and the ghostly abandoned huts of early explorers. From her temporary base at McMurdo Station, Antarctica's primary research facility, she documented the daily lives of the scientists and support staff who work in this extreme environment.

Wondrous Cold features more than 180 of Myers' captivating color and black-and-white photographs. Her engaging journal entries describe the physical challenges of taking photographs in a place where a tripod freezes solid in five minutes as well as the research, rhythms, and rituals of life on the Ice. New York Times writer Sandra Blakeslee contributes sidebars on the science conducted at the world's most remote frontier.
About the Author
---
JOAN MYERS turned to photography during the early 1970s as her life's work. Her photographs have appeared in more than fifty solo and eighty group exhibitions throughout the United States, and they are included in the permanent collections of the Amon Carter Museum, Biblioth que Nationale de France, Center for Creative Photography, Denver Art Museum, George Eastman House International Museum of Photography, High Museum of Art, Minneapolis Museum of Art, Museum of Fine Arts, Houston, Museum of Modern Art, Nevada Museum of Art, and San Francisco Museum of Modern Art, among others. Her books include "Wondrous Cold: An Antarctic Journey" (Smithsonian Books, 2006), which won an Honorable Mention from the American Association of Museum's 2006 Publications Competition, Pie Town Woman (New Mexico, 2001), which was the Best Illustrated Book for 2001 from Publishers Association of the West "Salt Dreams: Land and Water in Low-Down California", with William deBuys (New Mexico, 1999), which won both the 1999 Western States Book Award for Nonfiction and the 1999 William P. Clements Prize for the Best Nonfiction Book on Southwestern America, "Whispered Silences: Japanese Americans and World War II" (Washington, 1996), which earned the Rocky Mountain Booksellers Award and an Honorable Mention from Maine Photographic Workshops, "Santiago: Saint of Two Worlds" (New Mexico, 1991), and "Along the Santa Fe Trail" (New Mexico, 1986).
Praise For…
---
"There is music in [Myers'] best prints: subtle, lovely, and nuanced."—Michael More, Camera Arts

"Joan Myers' enchanting pictures offer up wonderful insights into the mysterious otherness of the frozen south."—Sarah Wheeler, author of Terra Incognita: Travels in Antarctica and Cherry: A Life of Apsley Cherry-Garrard