Willing to Learn: Passages of Personal Discovery (Paperback)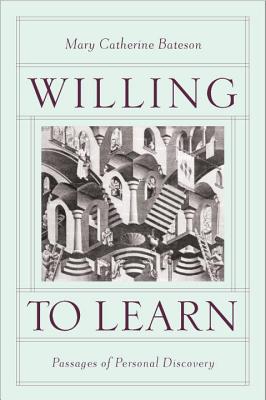 $24.99
Usually Ships in 1-5 Days
Description
---
Writer and educator Mary Catherine Bateson is best known for the proposal that lives should be looked at as compositions, each one an artistic creation expressing individual responses to the unexpected. This collection can be read as a memoir of unfolding curiosity, for it brings together essays and occasional pieces, many of them previously unpublished or unknown to readers who know the author only from her books, written in the course of an unconventional career.
Bateson's professional life was interrupted repeatedly. She responded by refocusing her curiosity by being willing to learn. The connections and echoes between the entries in her book are as intriguing as the contrasts in style and subject matter. The work is grounded in cultural anthropology but shaped by the observation that, in a world of rapid change and encounters with strangers, individuals can no longer depend on following traditionally defined paths.
"Willing to Learn" is arranged thematically. One section includes a sampling of writings about Bateson's parents, anthropologists Margaret Mead and Gregory Bateson. The longest section focuses primarily on the contemporary United States and deals with life stages and gender. Bateson argues that because women's lives have changed most radically, women are pioneers of emerging patterns that will affect everyone. Another section deals with belief systems, conflict, and change, especially in the Middle East, and the final section with different ways of knowing. Bateson is a singular thinker whose work enriches lives by bringing fresh, original ideas to subjects that affect all of our lives. "Willing to Learn" is at once an articulation of and an enduring testament to the artistic creation Bateson has produced pursuing her own life's work.
About the Author
---
Mary Catherine Bateson is the author of numerous books, including" Our Own Metaphor"; "Peripheral Visions"; the national bestseller, "Composing a Life"; and "New York Times" Best Book of the Year, "With a Daughter s Eye." Her newest work is "Composing a Further Life: The Age of Active Wisdom."

WWW.MARYCATHERINEBATESON.COM"
Praise For…
---
"Readers may be most interested in "The Lessons of 9/11," an essay in which she develops a critique of a phrase often uttered in the tragedy's aftermath: "Everything is different." Using the phrase as a locus, Bateson considers the consequences of the terrorist attacks and the possibilities that such a large, traumatic event holds for understanding and knowledge, strongly asserting our needs to tolerate, learn from and empathize with divergent views--especially in moments of trauma when learning is most threatened." - Publishers Weekly

"I admire Bateson's work enormously; I think she is one of the most important thinkers and writers of our time." — Deborah Tannen

"Composing a Life has been such an inspiration because it gave me a framework. She has kind of an anthropological and multicultural view of women's lives and was very encouraging of me to do a lot of the work I do on women and children."— Hillary Rodham Clinton

"The author's vast experience and eclectic knowledge continue to provide incisive perspectives on a variety of contemporary issues, ranging from international politics to ecology and education."— Mihaly Csikszentmihalyi in the Washington Post