Old Buildings, New Forms: New Directions in Architectural Transformations (Hardcover)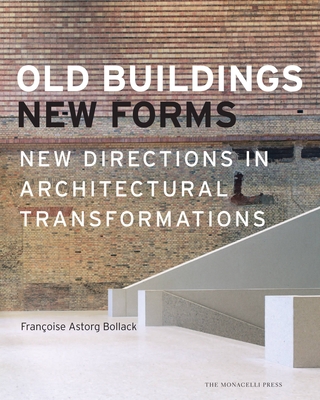 Description
---
It is clear that working with historic structures is both more environmentally sustainable and cost effective than new architecture and construction and many believe that the best design occurs at the intersection of old and new. Francoise Astorg Bollack presents 28 examples gathered in the United States and throughout Europe and the Middle East. Some are well known Mass MOCA, Market Santa Caterina in Barcelona, Neues Museum in Berlin and others are almost anonymous. But all demonstrate a unique and appropriate solution to the problem of adapting historic structures to contemporary uses. This survey of contemporary additions to older buildings is an essential addition to the architectural literature.
I have always loved old buildings. An old building is not an obstacle but instead a foundation for continued action. Designing with them is an exhilarating enterprise; adding to them, grafting, inserting, knitting new pieces into the existing built fabric is endlessly stimulating. Francoise Astorg Bollack.
About the Author
---
Francoise Astorg Bollack is the principal of Francoise Bollack Architects, a firm that specializes in preservation and reinvention of historic structures, and a faculty member at the Columbia University School of Architecture, Planning and Preservation."
Praise For…
---
"The author's introduction is both elegant and illuminating, as are the introductory notes to each of the five types. Bollack's book opens readers to the 'creative possibilities of preservation.' It gives us a vivid reminder that we can embrace modernity while respecting the past." —Architectural Record

"Hidden behind the shiny sight of bold new buildings lies a rather quieter architectural story, that of renovation, restoration and re-use. Old Buildings, New Forms is a survey of the very best in rebuilding, with nearly 30 projects from around the world." —Wallpaper
 
"Full of some great examples of how old buildings are not static set pieces; they are canvases for the continuing evolution of places and the lives within them. One of the most convincing aspects of the book can be found in the introduction to each chapter. There, Bollack presents historical precedents that lend credence to the handful of techniques she highlights, while also adding weight to the idea that transformations are necessary and welcoming." —Archidose

"'Like most architecture students, I was taught that new was better, somehow more courageous, more moral,' reflects architect Françoise Astorg Bollack in her new book. But the buildings presented in her compilation incorporate old structures. From Alsop Architects' Sharp Center for Design in Toronto, a pixilated metal box-like canopy dominating the entrance, to Ibos & Vitart Architects' expansion of Le Museé des Beaux-Arts in Lille, each of the 29 projects displays modern interventions on historic buildings. Copious text and floor plans accompany beautiful photography." —Interior Design