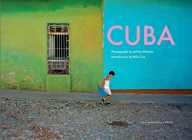 Cuba: Photographs by Jeffrey Milstein (Hardcover)
Not In Stock - Special Order (Subject to Availability)
Description
---
The images contained in this book do more than mirror reality in Cuba. They offer an orientation to its complexities. They present glimpses that are factual, realistic, honest, mixed with a breath of lyricism and quotidian simplicity, capturing our attention and allowing us to see the unseen. They get us in touch with the depth of our own inwardness and expand our sympathies not only for the Cuban people but also for humanity. —Nilo Cruz
Cuba is a rhythmic, colorful, sophisticated, and intimate view into this isolated island that has long existed in a state of paralysis, immobile in time. Photographer Jeffrey Milstein captures and delves deep into the beauty, soul, and the extremes of Cuba's urban life, the character of its people, the atmosphere of the region, and the country's visual attractions and landscape.
The artful presentation and more than one hundred stunning photographs portray a story far more revealing and intimate than words can tell, rare views of Cubans at work and play will dispel any notion you might have that Cuba is a somber and depressing place, and will draw you into the history and the people that make Cuba our most fascinating neighbor.
About the Author
---
Jeffrey Milstein is a photographer, architect, graphic designer, and private pilot. His photographs are in the collections of many museums, including the Portland Art Museum in Oregon, the George Eastman House in New York, the Musée de l'Elysée in Switzerland, the Ulrich Museum of Art in Kansas, and the Akron Art Museum in Ohio. His work has been published in PDN, Photo Review, Foto Magazin, American Photography, Men's Vogue, Creative Review, and Wired. He is the author of AirCraft: The Jet as Art, a collection of award-winning photographs that explore the typology of aircraft.

Nilo Cruz is a Pulitzer Prize–winning Cuban-American playwright.
Praise for Cuba: Photographs by Jeffrey Milstein…
---
"Until you're able to pay a visit, pick up a copy of Cuba: Photographs by Jeffrey Milstein, which captures the fading splendor of once-vibrant buildings on this transitioning island."
—Endless Vacation