Jim Olson Houses (Hardcover)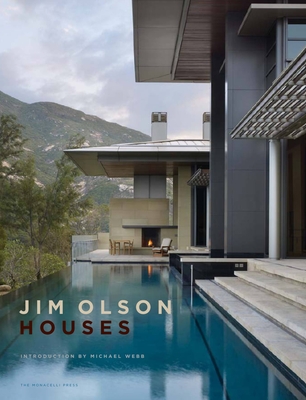 Description
---
The sixteen houses and apartments featured here respond to different needs and sites, but all share a common DNA. They are the product of a singular vision and a collaborative process.

—Michael Webb

 

Seattle-based architect Jim Olson, the founding partner of Olson Sundberg Kundig Allen Architects, is particularly known for his subtly elegant residences, from a glass farmhouse in eastern Oregon to a Balinese-inspired retreat in Hawaii, from a diminutive waterfront cabin for his own family to two grand art-filled residences on the shores of Lake Washington in Seattle. Modern in spirit, the luxurious houses are characterized by intangible qualities of light and space. Olson balances a deep knowledge of architectural history, from the temples of Egypt to the great buildings of the modern era, with a sensitivity to art and nature. Each work is carefully calibrated to site and client.

 

Olson is fascinated by the relationship between art and architecture, and many of his houses and apartments have been designed for major art collectors. The sixteen residences in this volume—in Washington, Oregon, California, Colorado, Georgia, Hawaii, and Hong Kong—explore that interplay as well as the correspondences between light, space, and mood. The finely proportioned interior spaces are distinguished by a striking use of both natural and highly refined materials, masterful modulation of light, sophisticated details, sleek furnishings, and a careful balance between monumentality and intimacy. In natural settings, his buildings often weave into their surroundings as if they had always been there; in urban environments, his designs create and enhance a sense of community. The introduction, by noted design writer Michael Webb, emphasizes context and process, vital factors in Jim Olson's work.
About the Author
---
Jim Olson established his firm in Seattle in 1966. Since that time the office has grown into a diverse practice with an international reputation as Olson Sundberg Kundig Allen, winner of the 2009 AIA Firm Award. Olson is the recipient of the 2007 Seattle AIA Medal of Honor. He has lectured extensively throughout the United States and in Canada and Mexico on the relationship of art and architecture. Michael Webb writes on architecture, design, and travel. He is the author of twenty-six books, most recently Modernist Paradise: Niemeyer House, Boyd Collection and Venice, CA: Art + Architecture in a Maverick Community. Previous titles include: Art/Invention/House, Adventurous Wine Architecture, Brave New Houses: Adventures in Southern California Living, and Modernism Reborn: Mid-Century Modern American Houses. Webb contributes regularly to the Architectural Review, Architect's Newspaper, Mark, and The Plan, and he also writes for the New York Times, Town & Country, and World of Interiors. He was born and educated in England.
Praise For…
---
When architect Jim Olson designs a home, his distinctive aesthetic, elegant and understated, comes into play. Sensitive to his clients, many of whom are sophisticated art collectors, he creates living spaces that are comfortable and expressive, enabling the room's art to speak. Jim has an innate talent for combining art and architecture and for working with artists to incorporate their installations seamlessly into his work. I dream of the intimate room of changing light that artist James Turrell created in a Jim Olson house as it was being designed and built. Jim Olson, gracious and self-effacing, has a magic touch.
—Mimi Gates, Former Director, Seattle Art Museum