Uncommon Crochet: Twenty-Five Projects Made from Natural Yarns and Alternative Fibers (Paperback)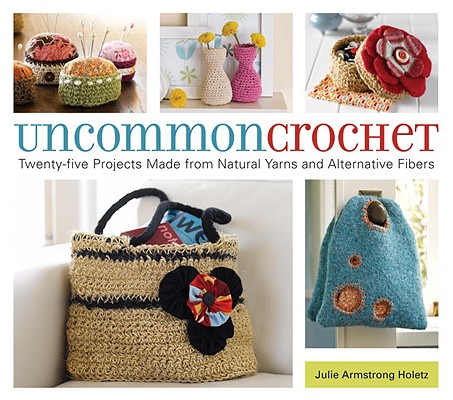 Description
---
Black leather granny squares are anything but square, and hot pink organic hemp gives crocheted vases a decidedly modern cachet. In "Uncommon Crochet," designer Julie Armstrong Holetz applies new ideas and unconventional materials--like wire, raffia, jute, sisal, recycled belts, fabric strips, and felted beads--to twenty-five patterns for bins, baskets, totes, handbags, clutches, jewelry, and more. Step-by-step instructions, detailed how-to photographs, and essential advice about creativity, design, and experi-mentation encourage you to play with fiber, add funky embellishments, and use your creative spirit to customize any pattern--even the ones in this book From practical containers like Red's Goodie Basket (a stylish home for your WIP--works in progress) and Vintage Satchel (a sturdy retro messenger bag) to just plain fun projects like Petite Fleur Vases (tiny bud vases that hold water) and Sushi (crocheted California rolls, anyone?), "Uncommon Crochet" offers fresh twists on old-school techniques that turn simple projects into gift-worthy creations.
About the Author
---
Crochet designer Julie Armstrong Holetz is a technical editor and the author of "Crochet Away! "Her designs have been published in "The Happy Hooker: Stitch 'n Bitch Crochet, Get Hooked, "and" Get Hooked 2, " and in" Crochet Me "magazine. A featured guest on multiple episodes of the DIY Network's "Uncommon Threads," Julie gives crochet workshops and leads fiber fun camps near her home in Redmond, Washington.

THE AUTHOR SCOOP

What are you working on now?

Right now, I'm experimenting with garment design for kids. I really want to create contemporary projects that my kids will want to wear.

Do you eat your vegetables?

I love vegetables when they are in season. The one vegetable I cannot stand in the least is Brussels sprouts. I will not eat them with a goat, I will not eat them in a boat, I will not eat them here nor there. I will not eat them anywhere.

When did you know you were a writer?

I'm a writer?

Have any good pet stories?

My mother really likes having lizards as pets. Once she gave me a baby iguana for a pet. When I left on a trip I asked her to care for my little iguana until I returned. When I came to retrieve my pet, I noticed that it looked different. It looked...smaller somehow. After considering what could possibly be wrong, I asked my mother if it was possible that my iguana died and she tried to find an identical replacement to keep me from knowing. She said no, but ended up admitting her scheme a week later.

Vodka or gin martini?

Vodka, baby, all the way. Vodka is the people's drink.

Are you "six degrees of separation" away from anyone famous?

My uncle wrote the song "I'm Lovin' It" that eventually became a McDonald's jingle. My kids love that.

If you had to boil your book's message down to one sentence, what would it be?

It's okay to step out of the box, allow yourself to become inspired and explore the possibilities of what your fingers can create.
Praise For…
---
"Uncommon Crochet is a crochet book like no other--mixing an array of fibers like natural yarns, leather, twine, and wire to create modern elegant pieces for you and your home. You'll want to make each and every project in this book!" --Natalie Zee Drieu, senior editor of Craft magazine

"Uncommon Crochet is the ultimate resource for fiber crafters who enjoy a challenge. Julie Armstrong Holetz brings her unique design principles to life, encouraging the reader to experiment with unusual materials and techniques to create functional, fabulous pieces that are as useful as they are beautiful." --Shannon Okey, author of the Knitgrrl series, Spin to Knit, Felt Frenzy, and Alt Fiber
 
"In Uncommon Crochet, Julie Armstrong Holetz takes the simplest crochet to new heights with a totally contemporary approach. She walks the reader through every step with clear instructions, beautiful photographs, and page upon page of inspiration. Her graceful navigation of structure, beauty, and technique is sure to spark every crocheter's imagination." --Kim P. Werker, editor of Interweave Crochet magazine and author of Get Hooked
 
"In Uncommon Crochet, Julie Armstrong Holetz combines technical savvy with design innovation to show crocheters how to work new techniques with unusual materials. Her brilliant bags, baskets, and containers of all sorts are as fun to make as they are to use and display." --Amy O'neill Houck, crochet designer and author of The Color Book of Felted Crochet