Hot Chocolate (Paperback)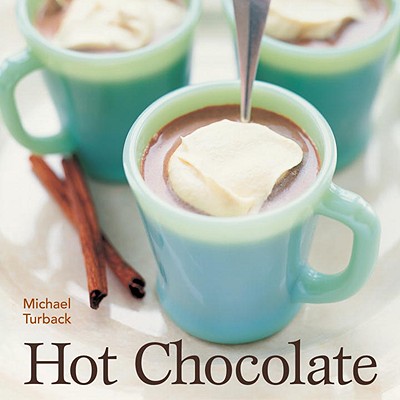 $9.95
Usually Ships in 1-5 Days
Description
---
Featuring luxurious concoctions ranging from ancient Latin American originals and European cafe classics to comforting childhood treats.
No longer just a simple, syrupy sweet drink, today's hot chocolates are brimming with extraordinary flavors like cayenne, vanilla beans, Nutella, buttered rum, pistachios, wasabi, peanut butter, and malted milk balls. Featuring white chocolate foam, marshmallow cream, and frozen and fondue versions, the 60 recipes presented in "Hot Chocolate" are setting trends in haute chocolate consumption. Contributed by the world's preeminent chocolatiers, including Vosges Haut-Chocolat, Serendipity 3, Citizen Cake, Fran's Chocolates, Scharffen Berger Chocolate, and many more, these imaginative modern variations are for the hip chocoholic of any age.
A cup of hot chocolate is twice as rich in antioxidants as a glass of red wine. And, some would say, is just as intoxicating.
About the Author
---
Michael Turback is a veteran restaurateur and the author of "The Banana Split Book" and "A Month of Sundaes." He lives in Ithaca, New York."

"

THE AUTHOR SCOOP

Who would you cast as yourself in a movie of your life?

When I ran my restaurant in Ithaca, NY, we would often guess who would play each of the staff if they ever filmed the story of running a restaurant. The consensus was that Clint Eastwood would have been tapped to play me: "Go ahead, make my day."

Have you ever met a famous person?

Guest speakers and performers who visited Cornell would often be taken out to dinner at my restaurant, so over the years I met people like George McGovern, Geraldine Ferraro, William F. Buckley, John Houseman, Douglas Edwards, Carl Sagan, John F. Kennedy Jr., Betty Freidan, Andre Tschelicheff, Al Unser, Jr., Kim Alexis, Cousin Bruce Morrow, Peter Yarrow, and Neil Sedaka, to name a few.

Favorite cocktail?

Smoked-Tomato Bloody Mary (Stonecat Cafe, Hector, NY)

Favorite dessert?

Tin Roof Sundae (Tom's Ice Cream Bowl, Zanesville, OH)

Tell me something that people might not know about you.

As a long distance runner, I've completed 109 races of marathon distance or longer (includes five 50-mile trail races)."