The Gourmet Slow Cooker: Simple and Sophisticated Meals from Around the World (Paperback)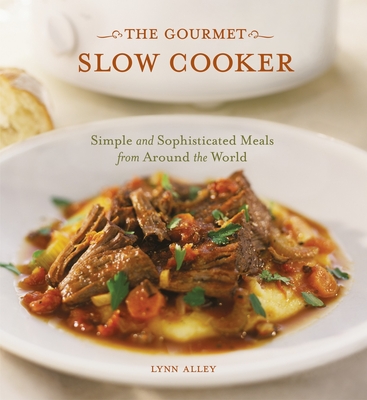 $19.99
Usually Ships in 1-5 Days
Description
---
Although the slow cooker has experienced a renaissance over the past several years, the discriminating cook is still hard-pressed to find slow cooker recipes worthy of serving at a dinner party'Airecipes that reflect concern about ingredients, flavors, and appearance.
For these cooks, comes THE GOURMET SLOW COOKER, an upscale approach to this new-old phenomenon by author and food journalist Lynn Alley. With fresh ingredients and imaginative recipes, you can create delicious meals to serve with pride to your guests. Drawn from slow cooking traditions from around the world, the recipes include Lamb Shanks in Tomato Sauce from Greece; Apricot Chicken from India; Chicken Mole from Mexico; White Truffle Risotto from Italy; Provencal Chicken Stew from France; and Potato, Cheddar, and Chive Soup from the United States.
In keeping with the sophistication of the food, each recipe is accompanied by wine or beer suggestions. The slow cooker can be so much more than a repository for nacho cheese dip. Paired with THE GOURMET SLOW COOKER, your everyday dining will be elevated from the mundane to the gourmet, while freeing you from hours of hard work in the kitchen.
- A slow cooker book for discriminating cooks, with 16 full-color recipe photographs.
- Includes chapter introductions to each region, focusing on the slow-cooking traditions and techniques from that country, and local wine or beer suggestions for all 60 recipes.
- According to a study by the Betty Crocker Kitchens, 80 percent of U.S. households have a slow cooker.
Reviews
Go ahead and sneer. I love my slow cooker. . . . Even food snobs like me are realizing their potential, albeit a little later than the more than perhaps 100 million Americans who already own one. - Mark Bittman, New York Times
About the Author
---
LYNN ALLEY is a freelance food and wine journalist interested in traditional foods and techniques from around the world. The author of LOST ARTS, she has contributed articles to Fine Cooking, Cook's Illustrated, the San Francisco Chronicle, and Appellation magazine. She frequently writes for Wine Spectator and its website. Alley has also taught classes at cooking schools around the United States. She resides in San Diego, California.