Mrs. Wilkes' Boardinghouse Cookbook: Recipes and Recollections from Her Savannah Table (Hardcover)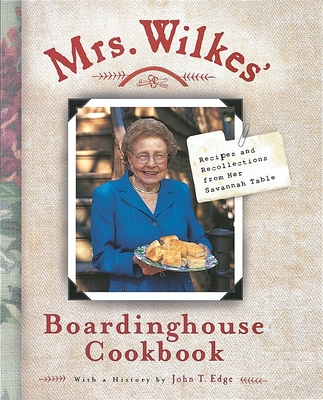 Description
---
In 1943, a young and determined Sema Wilkes took over a nondescript turn-of-the-century boardinghouse on a sun-dappled brick street in historic downtown Savannah. Her goal was modest: to make a living by offering comfortable lodging and Southern home cooking served family style in the downstairs dining room. Mrs. Wilkes' reputation was strong and business was brisk from the beginning, but it was the coverage in
Esquire
and the
New York Times,
and even a profile on David Brinkley's evening news that brought Southern-food lovers from all over the world to her doorstep. Sema is now 95 years old, and four generations of Wilkeses help her keep the tables laden with platters of her legendary fried chicken, pork ribs, and biscuits, while friends and strangers pass bowls brimming with her sublime butterbeans, collard greens, mashed sweet potatoes, and banana pudding. The line snakes out the front door and down the street, where along with the locals and visitors, it's not uncommon to find Jimmy Carter or Roy Blount Jr. among other familiar faces waiting for their turn at Mrs. Wilkes' table. With over 300 recipes and culinary historian John T. Edge's colorful telling of Mrs. Wilkes' contribution to Savannah and Southern cuisine, this rich volume is a tribute to a way of cooking--and eating-- that must not be forgotten.
- Recipient of
Southern Living's
Reader's Choice Award 2000.
- Mrs. Wilkes won the 1999 James Beard "America's Regional Classics" Award.
- Mrs. Wilkes' self-published recipe book,
Famous Recipes,
which became the foundation for MRS. WILKES' BOARDINGHOUSE COOKBOOK, has sold over 250,000 copies.
- Illustrated throughout with over 50 black-and-white photographs from Mrs. Wilkes' Boardinghouse and 25 color photos of her classic recipes.
About the Author
---
SEMA WILKES was born in 1907 to Georgia farmers who grew tobacco, cured hams, smoked sausages, and otherwise worked hard to get by. As the oldest of four children, all orphaned, she learned to cook out of necessity. Married at 16, a mother at 21, relocated to Savannah in the name of the war effort at 35, Sema went to work at Mrs. Dixon's Boardinghouse. Three years later, in 1943, she took over the boardinghouse and began building what would become her legacy. She lives in Savannah, Georgia, and still works at the boardinghouse every day.
Praise For…
---
"Captures the essence of Southern fare." —Restaurant Hospitality "[Mrs. Wilkes' biscuits are] one of the greatest things, ever, to happen in my life." —Craig Claiborne"[At Mrs. Wilkes'] the guests look in amazement as big platters of crisp, fried chicken and plenty of it, are set down on the white oilcloth. Then come feathery biscuits, generous squares of cornbread, tender okra simmered with tomatoes, pickled beets, candied yams, pitchers of sweetened ice tea." —Boston Globe"Certainly down-home food is not news to regulars at such enduring American establishments as Mrs. Wilkes' Boardinghouse in Savannah, where guests sit at community lunch tables and help themselves from ten to twelve bowls and platters of meats, salads, and vegetables." —Time"A meal at Mrs. Wilkes' is reminiscent of dinner at Grandma's." —Esquire