Be a Brilliant Business Writer: Write Well, Write Fast, and Whip the Competition (Paperback)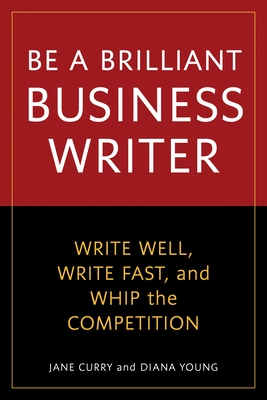 $14.99
Usually Ships in 1-5 Days
Description
---
Leverage the power of effective writing

Be a Brilliant Business Writer gives you tools for mastering the art of persuasive writing in every document you create, from email and client letters to reports and presentations. Jane Curry and Diana Young will show you how to convey your message with clarity and power, increase your productivity by reducing rewrites, and provide just the right tone for navigating the minefield of office politics. With its smart, savvy advice, Be a Brilliant Business Writer will help you write to boost the bottom line, win professional accolades, and gain greater job security.
About the Author
---
JANE CURRY earned her PhD in English Education from the University of Chicago. DIANA YOUNG received her PhD in English from Stanford. Their company, Curry Young Consultants, Inc., based in the Chicago area, delivers customized writing and editing services to high-profile corporate clients and to employees at every level--from the mailroom to the C-suite.
Praise For…
---
"Writing for business is a literary form that is full of specific industry styles and rules, which authors Curry and Young decode in this new book. They are the owners of Chicago-based Curry Young Consultants Inc., which provides business writing and editing training to Fortune 500 companies. This book is a compilation of what they teach during those training sessions and is the epitome of user-friendly with lots of examples and easy-to-read bulleted lists of writing tips. The chapters, with titles such as "If you need to write for senior management" or "If you need to convey bad news," are broken down by the type of writing described in the section."
—Courtney Crowder, Chicago Tribune reporter, 12/10/10

"You may think you know how to write, but stringing words together is only part of the process, especially in business. They have to be effective. Costco member Jane Curry and Diana Young, in their book, Be a Brilliant Business Writer: Write Well, Write Fast, and Whip the Competition (Ten Speed Press, 2010), offer valuable insights for anyone who finds the art of written communication necessary in the workplace. For instance, if you want to write persuasively (Chapter 1), master five principles:
1. Organize so your key points are clear.
2. Include only relevant content.
3. Make sure readers actually read and respond to what you have written.
4. Write clearly and concisely.
5. Write with the right tone.
If you're thinking, "That's fine, but how do I do that?," this book's for you."
—Costco Connection, November 2010

"…if you're looking to punch up your business communications, it's no doubt a good investment."
—BTripp's Books LiveJournal, 11/21/10

"Curry Young accomplished everything they promised. I got my weekends back, and the firm's productivity improved by over 15%! Curry Young's expertise directly contributed to our bottom line."
—Mike Litwin, former Chief Risk Officer, Merrill Lynch Capital
 
"In the end, it's the client's opinion that matters most; Curry Young's program helped us focus on the reader, not the writer—and that made all the difference."
—Bernard Del Rey, Executive Director, Morgan Stanley Institutional Advisory Group
 
"This book is long overdue. Every time I'm tempted to use the subjunctive tense ('I would like to thank you for . . .'), I remember their admonishment: 'Why not just say thank you? It's short and sweet and to the point.' Thank you, Jane and Diana!" 
—Scott Bates, former EVP, JPMorgan Chase