The Great Ceviche Book (Paperback)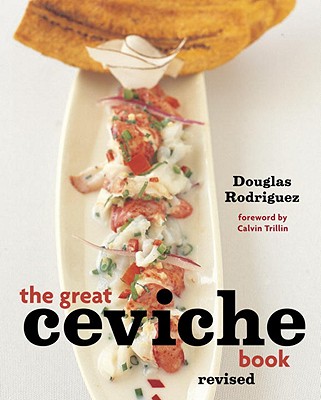 $20.00
Usually Ships in 1-5 Days
Description
---
"The Great Ceviche Book" is the definitive, authentic guide tothis fresh vibrant cuisine.
Ceviche fresh seafood cured in citrus boasts lively, bright flavors along with a low-fat, high-protein healthiness. In this revised edition of "The Great Ceviche Book," award-winning chef Douglas Rodriguez reminds us why he is the foremost Latin chef in America. You ll find straightforward instructions and confidence-building advice to walk you through all the ceviche fundamentals: its basic formula of six ingredients, the four safety commandments, helpful kitchen equipment to have on hand, and serving suggestions to create beautiful presentations.
Rodriguez's passionate take on the subject offers more than forty diverse ceviche recipes, from traditional dishes originating in Central and South America such as Chilean Sea Bass with Lemon Oil and Ecuadorian Shrimp, to recipes that draw on diverse ethnic influences such as Gingered Toro Tuna with Soy and Sesame. Chapters on tasty side dishes and helpful basics round out everything you need to know to make this simple yet sophisticated cuisine in your own kitchen. Rodriguez's streamlined preparations allow home cooks to focus on the virtues of freshness and pure flavors.
About the Author
---
DOUGLAS RODRIGUEZ is regarded as the creator of Nuevo Latino cuisine. Throughout his extensive professional career as a chef, he has received numerous accolades for his remarkably original cuisine. He won the Chefs of America Award (1991), Culinary Master of North America and New York awards (1994), the James Beard Foundation Rising Chef award (1996), and received a nomination for the James Beard Foundation Best Chef: New York award (1999). In 2009, he was nominated for the James Beard Foundation Best Chef: South award for his restaurant OLA and starred in the first season of "Top Chef Masters" on Bravo TV. Rodriguez also owns the restaurants D. Rodriguez (Miami), Alma de Cuba (Philadelphia), and Deseo (Scottsdale). He is the author of the groundbreaking cookbook "Nuevo Latino," as well as "Latin Ladles" and "Latin Flavors on the Grill." Rodriguez resides in Miami.

LAURA ZIMMERMAN is a freelance food researcher and writer. After several years in strategic consulting, she turned her career toward the food industry, specializing in marketing and research and development. She lives, eats, and writes in Chicago.
Praise For…
---
"[Douglas Rodriguez is] the man who . . . brought ceviche into the Manhattan mainstream."
—Calvin Trillin, from the foreword