My Favorite Ingredients: An Enticing Collection of Recipes (Paperback)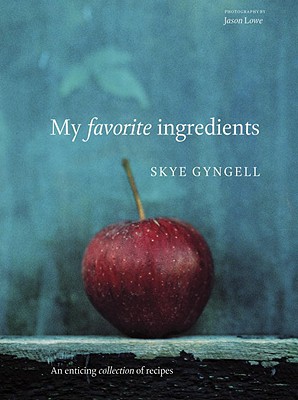 Description
---
At London's acclaimed Petersham Nurseries Cafe, head chef Skye Gyngell creates dishes that follow the ebb and flow of nature. The restaurant composes its menus daily, after the fresh fruits and vegetables arrive and the kitchen staff chooses the most tempting of the bunch. This produce-driven ethos is the basis for My Favorite Ingredients, which highlights sixteen of Skye's most-loved foods.
Each chapter stars one delicious ingredient--from asparagus to fish to cheese to honey--and offers diverse recipes based on a wide range of natural pairings, such as Crab Cakes with Corn Puree and Chili Oil, Goat Cheese Souffle with Lemon Thyme, and Chicken with Figs and Honey. In this very personal collection of more than one hundred recipes, Skye shares her simple ways of combining foods to coax out their purest flavors. These dishes draw on Skye's long-standing relationships with local suppliers and farmers (the restaurant works with forty-seven different providers) to highlight unusual varieties of familiar staples like tomatoes, leafy greens, and vinegar that are well worth discovering. This charming cookbook showcases the beauty and bounty that we find in nature--and helps us incorporate a bit of that natural abundance in our own kitchens.
About the Author
---
Skye Gyngell is the head chef at the award-winning Petersham Nurseries Cafe in southwest London. She is also an established food writer with a weekly column featuring recipes for the Independent on Sunday. Born in Australia, Skye has worked as a chef in Sydney, Paris, and London. In 2007, Skye s first cookbook, A Year in My Kitchen, was named Cookery Book of the Year by the Guild of Food Writers and the Best Food Book at Le Cordon Bleu World Food Media Awards."
Praise For…
---
"Cookbooks are a bit like plays, in that the English seem to have a real knack for producing them, and send the best ones across the pond once they're tried and tested. My Favorite Ingredients by Skye Gyngell is yet another great new cookery book by a London-based writer. Gyngell, who is the chef at London's acclaimed Petersham Nurseries Café, has arranged this book around 16 of her favorite ingredients such as "leaves" to "cherries" to "honey." This quirky organizing principle makes the book feel very personal, like a good friend hanging out with you in the kitchen. Gyngell writes in her introduction: "Nature provides ingredients in the same season that go together perfectly." Indeed, the recipes (many of which stem from the restaurant's repertoire) are unquestionably refined, but they also feel somehow holistic and pure. The recipe for chicken with garlic and fennel, which results in a kind of herbal chicken bouillabaisse, is alone worth the price of the book."
—The Daily Beast, Best Cookbooks of 2010, 12/4/10

"A great way to reinforce the beauty and logic behind the farm-to-table movement that drives so much of the food culture these days. . . .the variety of recipes—Cherry Cordial, Sauce Vierge, Kohlrabi, Lamb with Tomatoes and Horseradish Dressing—are interesting and unusual enough to have you cooking for a long time."
—Epicurious.com, 4/9/10

"From asparagus to chocolate, it's hard not to turn the pages and feel inspired."
—Apartment Therapy's TheKitchn.com, 3/30/10

"England's next great cookbook. . . . Our latest British cookbook obsession."
—TastingTable.com National Edition, 3/12/10

"Inspired by seasonal eating, Skye Gyngell has assembled her favorite ingredients and given them star treatment in casual, stunning recipes. The lush flavor combinations are daring but not at all fussy, and her mindful use of ingredients and simple techniques result in utterly embraceable food. . . .It's truly good food you can truly feel good about, and it's little wonder that Alice Waters adores her."
—AOL Slashfood.com, 3/11/10

"Cooking delicious food depends on the choice of ingredients. Skye understands this and insists on seasonal, ripe, and sustainably produced foods. This book is beautiful and important, emphasizing the quality of ingredients and simple cooking techniques."  
—Alice Waters, founder, Chez Panisse
 
"Skye so clearly adores her gorgeous ingredients that one almost forgets a recipe has actually been constructed. I see them more as deeply intelligent and respectful marriages that sing and dance off the page." 
—Simon Hopkinson, author of Roast Chicken and Other Stories