What Color Is Your Parachute? Job-Hunter's Workbook, Third Edition (Paperback)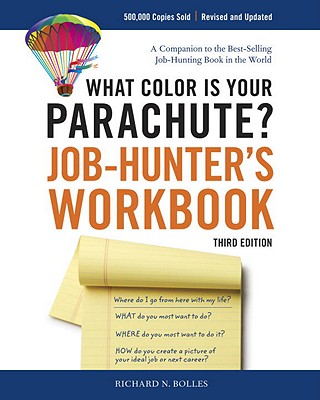 Description
---
Looking for work? Dreaming of changing careers and reinvigorating your passion?
 
What Color Is Your Parachute? Job-Hunter's Workbook is your key to creating a picture of your ideal job or next career.
 
Career guru Richard N. Bolles has been helping job-hunters for forty years with his classic job-search guide, What Color Is Your Parachute? This revised and updated full-color workbook makes doing his highly effective Flower Exercise easy. With user-friendly exercises and plenty of space to write, the Job-Hunter's Workbook will help you translate personal interests into marketable job skills. Simple step-by-step worksheets will illuminate your favorite transferable skills, fields of special knowledge, job environments, values and goals, working conditions, and levels of responsibility and salary. Once you've completed this workbook, you'll have a comprehensive picture of your dream job, and be able to effectively target your ideal work situation.
About the Author
---
RICHARD N. BOLLES has led the career development field for more than 35 years. A member of Mensa and the Society for Human Resource Management, he has been the keynote speaker at hundreds of conferences. Bolles holds a bachelor's degree cum laude in physics from Harvard University, a master's degree from General Theological (Episcopal) Seminary in New York City, and three honorary doctorates.
Praise For…
---
Praise for What Color Is Your Parachute?
 
"After reading What Color Is Your Parachute? from cover to cover (and working through a dozen flower exercises) I realized that it should be required reading for anyone who wants to successfully carve out their own career niche."
--Michael Landes, The Back Door Guide to Short-Term Job Adventures
 
"There's Parachute, and then there's all the rest . . . A life-changing book."
--Career Planning and Adult Development Journal
 
"What Color Is Your Parachute? is about job-hunting and career changing, but it's also about figuring out who you are as a person and what you want out of life."
--Time
 
"It was one of the first job-hunting books on the market. It is still arguably the best. And it is indisputably the most popular."
--Fast Company