Becoming a Vessel of God's Power: Give God Thirty Days and See What He Will Do (Paperback)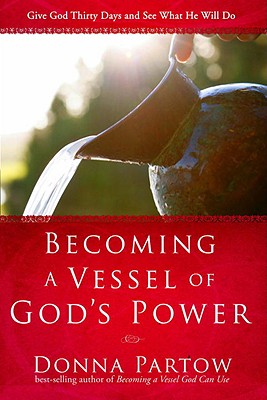 $14.99
Usually Ships in 1-5 Days
Description
---
Joseph woke up in a palace.
Peter led 3,000 to Christ with one sermon.
The walls of Jericho fell with a shout.
The waters of the Jordan parted while the Israelites slept.
When fire fell from heaven on Elijah's sacrifice, it didn t start as a spark to get the fire going. It fell in a consuming fire, not demonstrating a reward for Elijah's faithfulness but demonstrating God's power.
Throughout the Bible, when God showed up, everyone knew it.
And so can you "today "
Drawing on Scripture, church history, personal experience, and contemporary examples, Donna Partow walks you through a month of daily steps toward becoming a conduit of God's power. This thirty-one-day guide is also usable as a program for small group discussions over the course of eight weeks, and includes a leaders guide, plus tools like exercises for applying truths to everyday life, and cards to copy or cut out with key verses and principles.
God's power is the same today as yesterday and forever.
And you can experience it here and now.

About the Author
---
Donna Partow is the bestselling author of numerous books, including "Becoming a Vessel God Can Use, Becoming the Woman I Want to Be, "and "Let Your Life Count. "She s also a compelling speaker, touching women around the country with her uncommon transparency and passion for Christ. She begins her talks with this inspiration: I m on the planet for one reason: to demonstrate that God will take anybody in. She and her family live near Phoenix, Arizona."
Praise For…
---
Weaves an eloquent display of proofs from scripture that Jesus is indeed close at hand and [you] can bask in this spiritual reality right now.
–Publisher's Weekly