King's Ransom (Paperback)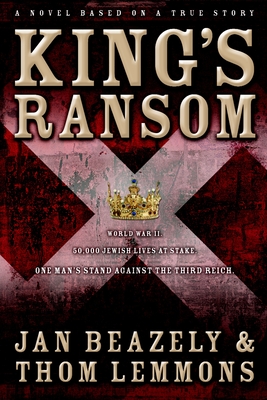 Description
---
The Faith to Face Tyranny
Faith to Face the Third Reich
Two Stories of Undaunted Courage Set during the darkest days of World War II, King's Ransom tells the heroic story of Tsar Boris III, King of Bulgaria, and his extraordinary efforts to save his country's Jewish population from Hitler's concentration camps. Aware of the price he might pay for his risks, Boris faced the Third Reich with courage and resolve, firm in his Christian convictions that would not permit him to abandon nearly 50,000 Jews. Boris, along with members of the Orthodox Church, Jewish religious leaders, and others, ultimately ensured that no Bulgarian Jews lost their lives to Hitler's regime. Based on a True Story Historically accurate, Boris's quest to save Bulgaria's Jews is interwoven with the love story of Daria, the Jewish attendant to the Bulgarian royal family, and Dobri, a sergeant in the king's guard. With courageous characters and passionate storytelling, King's Ransom reveals how individuals acting on faith can change the course of history.
About the Author
---
Jan Beazely is the author of The Strength of Mercy and cofounder of All God's Children International, a licensed, non-profit Christian adoption and relief ministry that began in 1991 after the Beazely family adopted a child from Romania. In her extensive travels to Bulgaria, Jan has heard much of the account of King Boris' daring rescue firsthand from the remaining royal family. Thom Lemmons has published numerous works of fiction and non-fiction, including Sunday Clothes and the best-selling Jabez: A Novel. He is the senior editor at Texas A&M University Press.
Praise For…
---
"Meticulously researched, King's Ransom is a carefully constructed tale of love and brutality, heroism and cruelty, faith and despair, triumph and defeat.  Jan Beazely and Thom Lemmons have vividly woven fictional characters with accurate, but little known, historical figures and events to give us an incredible story that needs to be told."
--Kay Arthur, author of Israel, My Beloved

"For those who love stories of faith and courage, King's Ransom is a must read. In a time when our world suffers under the blight of unreasoning hatred, this little known chapter in history yields unforgettable lessons."
–Oliver L. North, LtCol USMC (Ret.), best-selling author of Mission Compromised and Jericho Sanction

"Like a rich tapestry done in vivid colors, King's Ransom weaves twentieth-century history and heart-stopping intrigue into an intricate pattern that delights the eye and engages the imagination. The authors guide us through the Bulgarian culture and countryside with deft hands, never allowing historical detail to overshadow the powerful story or the carefully drawn characters, who truly come alive on the page. A masterful work!"
–Liz Curtis Higgs, best-selling author of Thorn in My Heart

"Steeped in historical accuracy, King's Ransom rivets our hearts with true stories of previously unsung heroes. Their song has found our own time and place, thanks to the keen research of Jan Beazely and Thom Lemmons. A mesmeric read about a period in history when the lines between evil and good blurred, this story shows how honor and love triumphed in this forgotten kingdom of hidden heroes."
–Anne de Graaf, Christy Award-winning author of Into the Nevernight

"King's Ransom is, in a word, wonderful. It's well written, rich with historical detail, populated with vibrant characters, and deft in illustrating the struggles of both the Bulgarian Jews during World War II and the gentiles who helped them. Highly recommended!"
–Sylvia Bambola, author of Refiner's Fire, Tears in a Bottle, and Waters of Marah

"Beazely and Lemmons have crafted a carefully researched and excellently written work of historical fiction."
–Robert Whitlow, best-selling author of Life Support

"King's Ransom took me on a breathtaking journey into a time and place of which I knew little, and made me feel as if I now have friends in the past.  Thom Lemmons and Jan Beazely have stunningly portrayed the very personal struggles of a royal family, Jews in an increasingly anti-Semitic environment, and Christians in every walk of life.  This story will live on in my imagination for years to come."
–Janelle Burnham Schneider, author of "From Carriage to Marriage" in the Brides for a Bit anthology and "A Distant Love" in the Christmas Duty anthology