Twentysomeone: Finding Yourself in a Decade of Transition (Paperback)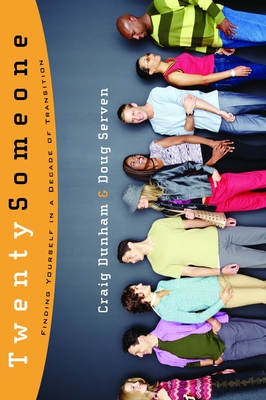 $14.99
Usually Ships in 1-5 Days
Description
---
Live Strategically
The decade of your twenties is full of important, stressful, maddening questions: What will I do? Who will I love? Where will I live?
But maybe there's a bigger question: Who am I? The fact is, the period of time between your teens and thirties will shape a lot of your character, your calling, and your view of the world.
Authors Craig Dunham and Doug Serven (recent graduates of their twenties) explain that the difference between a twentysomething and "TwentySomeone" has to do with the questions we ask. Instead of asking, What will I do? twentysomeones need to ask Who am I? the real question of the twenties.
Full of personal experience and practical wisdom, "TwentySomeone" helps you make the most of your twenties while giving you the skills to handle common life experiences like singlehood, first jobs, getting married, having kids, and buying stuff. This is a guidebook that will help you discover who God is calling you to be.
About the Author
---
Craig Dunham and Doug Serven met in college at the University of Missouri-Columbia and both worked for The Navigators after graduation. Craig is now the director of programs and marketing for the Glen Eyrie Group, the camping/conference ministry of The Navigators. Doug is now the Reformed University Fellowship campus minister at the University of Oklahoma and is ordained through the Presbyterian Church in America.
Praise For…
---
The decade of the twenties is one of major transition for most young adults. Unfortunately, many drift aimlessly through these critical years because they know neither the questions to ask nor the answers they need. Craig Dunham and Doug Serven have done a masterful job anticipating the questions young adults should be asking and helping them find the right answers. Every twentysomeone should profit from this book.
Jerry Bridges, author of The Pursuit of Holiness and staff member of The Navigators

With personal transparency and spiritual insight Craig Dunham and Doug Serven offer wonderful insights that yield great opportunities for Gospel transformation.
Bryan Chapell, president of Covenant Theological Seminary

In TwentySomeone, Craig Dunham and Doug Serven generously share their journeys through their own twenties decade in a fresh, thoughtful, and practical style that builds a bridge between key questions in the young adult years and the experience of Christian faith.  This book will serve as a 'mentor' for many.
 Sharon Daloz Parks, author of Big Questions, Worthy Dreams: Mentoring Young Adults in Their Search for Meaning, Purpose, and Faith