One Holy Fire (Paperback)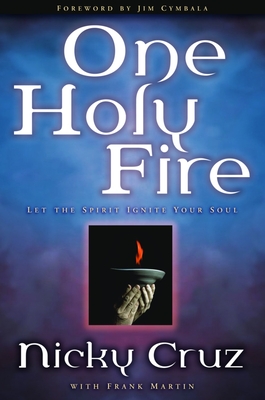 $17.99
Usually Ships in 1-5 Days
Description
---
One Holy Fire is the dramatic true story of the work of God's Spirit in one person's life-and how that same Spirit can revolutionize readers' lives as well.
Nicky Cruz shares lively, never-before-published stories from his ministry that will quicken readers' hearts and spark their souls. Stories of physical, emotional, and spiritual healing. Of masses coming to salvation in Jesus Christ. Of hand-to-hand spiritual warfare. Of the supernatural provision and presence of God's Spirit in every area of his life and ministry.
Cruz also explores the promises in Scripture regarding the Spirit's work on earth, addressing such questions as What does it mean to "walk in the Spirit"? How does a supernatural God do business in a natural world? Why has the body of Christ been so slow to come to grips with the Spirit's power and presence?
In One Holy Fire, the renowned author of the phenomenal Christian classic Run Baby Run introduces readers to the Holy Spirit. He challenges them to live according to the Spirit's moment-by-moment guidance. And he inspires them to open their heart and let the Spirit ignite their soul.

About the Author
---
Nicky Cruz is the best-selling author of several books, including the all-time Christian classic, Run Baby Run, Satan on the Loose, The Lonely Now, Lonely But Never Alone, and Where Were You When I Was Hurting? Nicky's rise to prominence began when, at age nineteen, he was saved from a life of drugs, violence, and street gangs in the ghettos of New York City. His story is chronicled in the classic book and full-length film, The Cross and the Switchblade. Nicky lives in Colorado Springs, Colorado. For more information, visit www.nickycruz.org. Frank Martin is the author of The Kid-Friendly Dad and War in the Pews, and a frequent collaborator, having written books with Mike Trout, Bill McCartney, Dr. O.S. Hawkins, and Robert Schuller. He also serves as primary writer for Dr. James Dobson in his "Focus on the Family Commentary" radio and television spots. Frank lives in Colorado Springs.