Prisoners of Hope: The Story of Our Captivity and Freedom in Afghanistan (Paperback)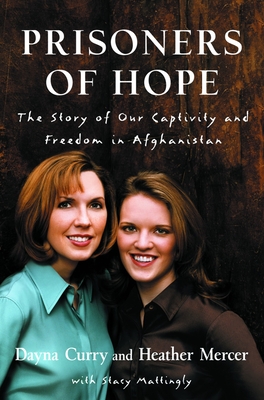 Description
---
The gripping and inspiring story of two extraordinary women--from their imprisonment by the Taliban to their rescue by U.S. Special Forces.

When Dayna Curry and Heather Mercer arrived in Afghanistan, they had come to help bring a better life and a little hope to some of the poorest and most oppressed people in the world. Within a few months, their lives were thrown into chaos as they became pawns in historic international events. They were arrested by the ruling Taliban government for teaching about Christianity to the people with whom they worked. In the middle of their trial, the events of September 11, 2001, led to the international war on terrorism, with the Taliban a primary target. While many feared Curry and Mercer could not survive in the midst of war, Americans nonetheless prayed for their safe return, and in November their prayers were answered. In Prisoners of Hope, Dayna Curry and Heather Mercer tell the story of their work in Afghanistan, their love for the people they served, their arrest, trial, and imprisonment by the Taliban, and their rescue by U.S. Special Forces. The heart of the book will discuss how two middle-class American women decided to leave the comforts of home in exchange for the opportunity to serve the disadvantaged, and how their faith motivated them and sustained them through the events that followed. Their story is a magnificent narrative of ordinary women caught in extraordinary circumstances as a result of their commitment to serve the poorest and most oppressed women and children in the world. This book will be inspiring to those who seek a purpose greater than themselves. From the Hardcover edition.
About the Author
---
Dayna Curry grew up outside Nashville, Tennessee, and attended Baylor University in Waco, Texas, where she majored in social work. She has been active with humanitarian work for several years in different countries, including Uzbekistan and Guatemala. Heather Mercer, originally from Vienna, Virginia, also attended Baylor University. Before going to Afghanistan, she traveled on humanitarian missions in Central America, Eastern Europe, and East Asia. Stacy Mattingly is a freelance writer.The proceeds from Prisoners of Hope are being used by the authors to start their own organization, Hope Afghanistan, which will bring relief to the poor of that country. They hope to return to Afghanistan to continue their work there.
Praise For…
---
"Heather Mercer and Dayna Curry decided to go to help people who needed help. Their faith led them to Afghanistan. One woman who knows them best put it this way: they had a calling to serve the poorest of the poor, and Afghanistan is where that calling took them. And Heather and Dayna's faith in God sustained them throughout their ordeal. It's a wonderful story about prayer, about a faith that can sustain people in good times and in bad times. Their faith was a source of hope that kept them from becoming discouraged. I talked to them right after their release, their freedom, and I sensed no bitterness in their voice, no fatigue, just joy. It was an uplifting experience for me to talk to these courageous souls." –President George W. Bush