Diabetic Foot Care: A Guide for Patients and Healthcare Professionals (Paperback)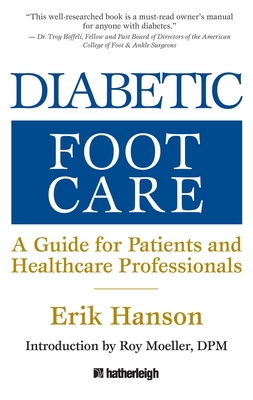 Description
---
A comprehensive guide to footcare for diabetic patients and their caregivers. In addition to a basic overview of diabetes and common foot problems related to diabetes, the book also includes: basic care for feet's skin, nails, shoes, and socks, safe exercise and diet tips to promote foot health.
About the Author
---
Erik Hanson works at the Alzheimer's Research Center at Regions Hospital in St. Paul, Minnesota, where he does technical writing and has done experimental work on neuroscience. During his work at Regions Hospital, Erik has written on Alzheimer's disease (sometimes termed "type III diabetes" because nerve cells in the brain are unable to readily use glucose) and the effects of deferoxamine as a neuroprotective treatment. Erik lives in the Minneapolis area.

Roy Moeller received his DPM from the Dr. William M. Scholl College of Podiatric Medicine in Chicago, Illinois. He did his podiatric surgical residency in southwest Minnesota based out of the Windom Area Hospital. He has been a podiatrist in private practice since 1986, serving the western suburbs of the Twin Cities with offices in Chanhassen and Edina.
Praise For…
---
"This well researched book is a must read owners manual for anyone with diabetes (and their family members).  The information in this book will teach you how to be your own best weapon against diabetic foot complications like amputation."
— Dr. Troy Boffeli, Fellow and Past Board of Directors of the American College of Foot & Ankle Surgeons

"The Diabetic Foot Care book provides the groundwork for any patient to understand how the foot is affected by diabetes, and the means by which prevention and coordinated professional care can allow the diabetic to 'walk' through life in the most healthy way."
— Dr. David J. Neese, DPM, FACFAS